Robin Roberts Tells Oprah She's 'Incredibly Blessed' In First Live Interview Since Transplant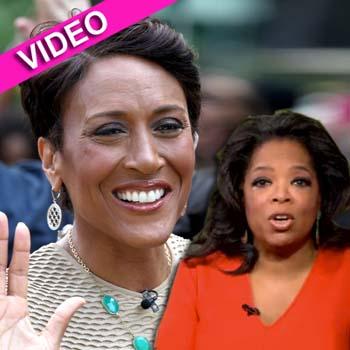 Robin Roberts called into Good Morning America Thursday to update viewers -- and special guest Oprah Winfrey -- on her recovery from her bone-marrow transplant last month.
"It's Day 35," the inspirational 51-year-old said about the procedure in her battle with MDS (Myelodysplastic Syndrome), a blood and bone marrow disorder. "Thirty-five days ago, I had my bone marrow transplant. It is a journey."
Article continues below advertisement
Robin said she's "incredibly blessed to be doing as well as I am.
"Some days I do feel like I am 35 days old and can't get my head off the pillow," Roberts conceded, "but those days are becoming fewer and fewer."
She said while "it would be a whole lot easier not to be so public when you're going through something like this… it's a privilege to be a messenger."
Roberts told guest Oprah -- who was misty-eyed during various parts of the segment -- she's been carefully documenting her journey back.
"I'm journaling -- you'd be very proud of me, Oprah. Journaling a lot," Robin said. "And just so appreciative of the outpouring. Not just for me but for everyone."
Oprah told Robin, "I felt your presence when I walked into the studio.
"I am so happy to be here with your family … you are here in spirit and we are so happy to have you call in this morning."
Robin said she "can't wait to come back" to the top-rated show.
Article continues below advertisement