Sandra Bullock Gets Naked In The Shower With Chelsea Handler!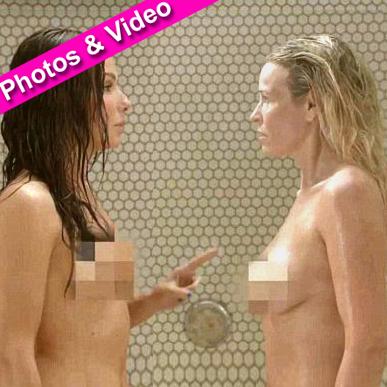 "America's Sweetheart" Sandra Bullock may have a squeaky clean image, but now she's literally squeaky clean after soaping up in the shower with Chelsea Handler on her late night TV show.
The Oscar winning Blind Side star, 48, showed she could be a nasty girl in a profanity-filled skit to mark the start of Handler's new season of her E! show, which premiered in a brand new studio Monday.
Article continues below advertisement
In the comedy bit, Bullock interrupts Handler, 37, in the staff showers and repeatedly scolds her over the raunchy content of her show.
Said Bullock: "You have a responsibility to be a respectable talk show host. This comes directly from Oprah's mouth to my ear, to my mouth, out of my mouth, into your ear, down your body, out your vagina, up my vagina and out my a**.
"The overall theme of this message is that you are a huge disappointment. Just because your the only person on late-night television who has tiny little lady bits does not give you a free pass.
Bullock goes on to say that the Queen of Talk, Oprah Winfrey, has some advice for her. "You have a responsibility to be a role model to young girls... and you need to lay off the booze."
The Speed star went on to slap Chelsea in the face, before saying: "Stop sleeping with your guests.
"That is why I've not done your show; I do not wanna sleep with you.'
Referring to her short romance with rapper 50 Cent last year, Chelsea quipped: "I don't sleep with that many anymore... just some of the rappers."
Article continues below advertisement
Sandra then smacks Chelsea again, prompting the TV host to start peeing in the shower.
Bullock continues: "You're urinating... We don't make pee pee in showers anymore. We make pee pee in the potty."
Eyeing Chelsea's naked body up and down, Sandra says: "All of this is disgusting. This is f**king sick. Bye," before storming out of the shower.
The bit ends with Chelsea's faithful cohort Chuy soaping her up – like all good assistants do.