Kardashians Attend Therapy Session, Rob Storms Off In Tears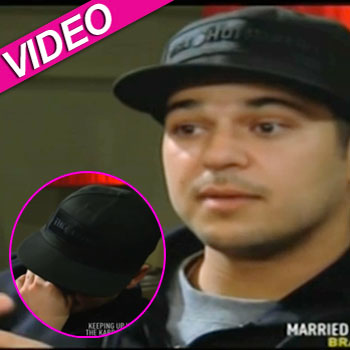 Rob Kardashian had an emotional breakdown on Sunday's episode of Keeping Up with the Kardashians, crying during a therapy session with his mother and sisters, and RadarOnline.com has the clip.
The family decided to sit down with a professional after sibling rivalry had brought Kim, Khloe, Kourtney and Rob to a tense, uncomfortable place.
"I feel like we have a lot to say and we need a mediator and we need someone who can like volleyball it and make it fine," said Khloe, adding her father, late O.J. Simpson lawyer Robert Kardashian, "would be disgusted" watching his daughters fight tooth and nail over money.
Article continues below advertisement
Not feeling the therapy vibe, however, was Kim, who said the sit-down sounded "like the most ridiculous idea," but attended all the same.
One point of contention was Kim's and Rob's awful relationship, as the siblings simply don't like each other: Kim thinks Rob is immature, Rob thinks Kim is selfish.
"She thinks everything's about herself, obviously," Rob groused.
In the session, Rob said his anger "stems from, like, the working environment," as earlier in the episode, he bemoaned his lack of a career.
He complained that "when there's a business opportunity, I know that mother Kris is busy with the three girls."
"You look sad, am I misreading you?" the therapist asked Rob, who walked out of the room in tears.
Kim had little pity for her brother, saying, "He storms off, it just doesn't make sense to me … he's so dramatic."
Watch the video on RadarOnline.com
Also of note was an uncomfortable exchange between Kris and daughters Khloe and Kourtney, who accused her of playing favorites with Kim. The two said they have a special relationship because of their similarities.
Article continues below advertisement
Mixing Reality With Fiction: Rob Kardashian NOT Going To USC Law School