Rob Kardashian Complains Of Being Sidelined During Oprah Meeting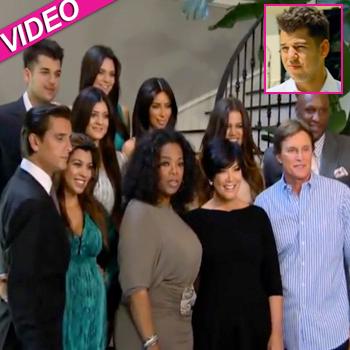 When Oprah Winfrey met the Kardashians recently apparently one member of the clan felt cast aside.
In a preview for an upcoming episode of Keeping Up With The Kardashians Rob complains he felt a little left out during the photo shoot before the interview, and RadarOnline.com has video.
The family is shown in a behind-the-scenes look at the taping of the interview for Oprah's Next Chapter, which was aired earlier this year.
Article continues below advertisement
But Rob grumbles that he was sidelined.
He tells the camera: "First it's like a group photo. And then it goes – my mom and Bruce, Lamar and Khloe, Scott and Kourtney...and then it's…Oprah and just Kim."
When it was his turn to take pictures with the queen of chat he was lumped together with his baby sisters Kendall and Kylie Jenner.
"Then I'm like on the end and Kendall's towering over me," he says. "I don't even want to be a part of this."
To make matters worse – after inviting Scott Disick to collaborate with him on a clothing line – Kourtney's squeeze disses Rob's business skills.
Scott says: "I would probably do anything I could to help Rob out in a business sense just because I think he's struggling a little bit.
"He just doesn't really know how to focus and put his mind to things. He's kind of used to his mother doing things for him.
Article continues below advertisement
"He needs to understand that being a man sometimes you have to do everything on your own."
Any hard feelings Rob felt about the Oprah photo shoot may have disappeared by Saturday night.
In photos obtained by RadarOnline.com he was spotted hanging out with Rihanna at Racer's Edge Indoor Karting in Burbank, California.