Kourtney Kardashian Watches Water Birth Before Having Penelope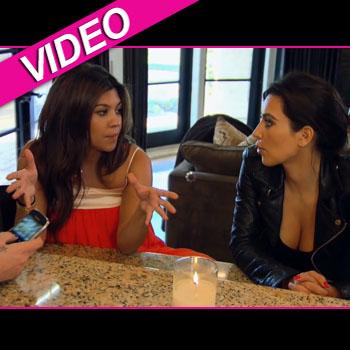 A very-pregnant Kourtney Kardashian witnessed a live water birth on Sunday's episode of Keeping Up with the Kardashians, and we've got the clip for you right here on RadarOnline.com.
The episode was filmed before Kourtney gave birth July 8 to daughter Penelope, her second child with Scott Disick.
Wanting to explore all of her options, Kourtney looked into water birth, though her sisters, particularly Khloe, advised against it.
Article continues below advertisement
"I do value my sisters' opinions and my mom's opinion but ultimately it's my decision," Kourtney said, calling water birth an "empowering" act.
Scott did not embrace the idea, as mere mention of the topic prompted him to say he wished he "had a panic room.
"I'd go and hide there," he complained, adding a water birth would leave "placenta juices" in his house.
To best understand what she was getting into, Kourtney, along with Khloe, went to watch a woman deliver her child via water birth.
The woman's agony throughout the process effectively convinced Kourtney (who had son Mason in a hospital) to go the traditional route.
Watch the video on RadarOnline.com
"I just don't think that a water birth is what I want to do now," Kourtney said after witnessing the birth, "even though I think that the experience at home would be amazing."
Keeping Up with the Kardashians returns Sunday on E! at 9/8c.