Did Kourtney Kardashian Have Her Baby?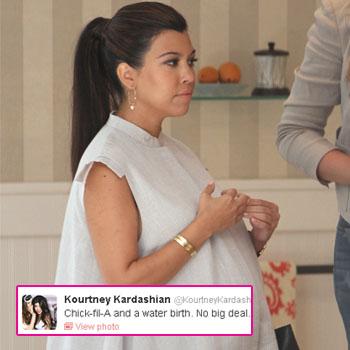 UPDATE: Looks like Kourtney did not have her baby. She Tweeted this clarification Friday morning:
" Witnessed a water birth last night with @KhloeKardashian. What an experience! All I can say is WOW!"
Has Kourtney Kardashian had her baby?
"Chick-fil-A and a water birth. No big deal," she mysterious tweeted last Thursday, linking to a picture of a cup from the fast food restaurant. (She's due in late June.)
Article continues below advertisement
Looking at other Twitter accounts in reality's royal family, Kourtney's baby daddy Scott Disick hadn't posted anything for a few days.
Kim tweeted, "Late night Top Ramen noodles with Lawry's garlic salt;" and younger sister Kylie tweeted she was sleeping over at Kourtney's house.
Scott and the oldest Kardashian daughter have been together for six years and have a son named Mason. He recently opened a New York restaurant called RYU.