Scott Disick's Hard-Partying Lifestyle Leaves Him At Odds With Kourtney Kardashian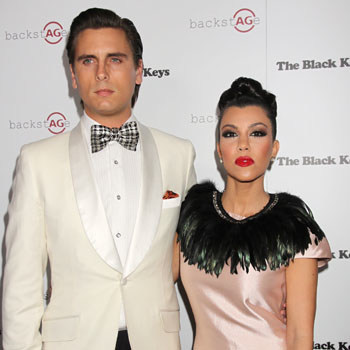 Kourtney Kardashian's relationship with Scott Disick is in crisis, as the vice-ridden baby daddy is "on a downward spiral" and "more of a mess than I've ever seen him," according to an insider who spent time with the reality star recently.
Khloe Kardashian, an insider says in a magazine report, was the one who "stepped in" and told Kourtney that Scott is back to boozing.
Despite recently welcoming their second child, a girl named Penelope Scotland, the relationship between the two remains "the worst they've ever been," an insider said.
Article continues below advertisement
"Scott is never alone with Penelope because he is so irresponsible," said the insider, adding Kourtney's to the point where she encourages him to leave the house so she doesn't have to deal with him. "Kourtney doesn't even like for him to hold the baby because she's afraid he'll drop her."
One source says Scott's taken up the nightlife because he's bored: "He's a 29-year-old dad with no real job and nothing to do. So he's partying again and drinking heavily."
In the meantime, the first family of reality TV is "rallying around Kourtney, as Scott isn't being a good role model or dad."
"Momager" Kris Jenner is "furious that Scott's out in public acting like a drunk," an insider said. "She'd rather kick him out and be done with him until he grows up.
"The animosity behind them is really bad."
RELATED STORIES:
Scott Disick Leaves Son Mason In Closed Car In Scorching Heat
'Exhausted' Kourtney Kardashian & Scott Disick Pulling All Nighters With Their Cranky Baby
Kourtney Kardashian Fighting With Kris Jenner Over Schemes To Make Money Off Baby
Kourtney Kardashian's World Shattered As Scott Disick's Creepy And Criminal Past Is Revealed