Scott Disick Leaves Son Mason In Closed Car In Scorching Heat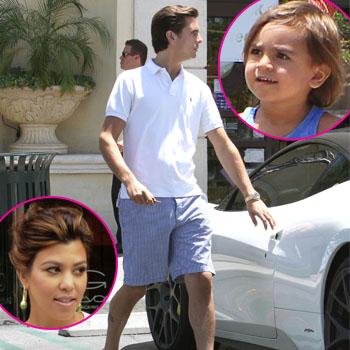 Kourtney Kardashian's baby daddy Scott Disick left their 2-year-old son Mason in his Mercedes SUV with the windows up -- on a day temperatures soared as high as 107 degrees -- while he was browsing magazines at a newsstand, an eyewitness tells the ENQUIRER.
"He was out of the car for at least five minutes and should have never left his son alone!" the source told the ENQUIRER of the August 10 incident which occurred in the Kardashian hometown of Calabasas, California. "The car was parked in the hot sun with the boy alone in the back.
Article continues below advertisement
"The car was not running, so the air conditioner wasn't on, and the windows were rolled up."
Kourtney, who by all accounts seems like a good parent, was livid with her partner about his carelessness, and suggested someone go along with him to supervise on visits so nothing like this happens again.
"All she could think about is that Mason could have died. She read Scott the riot act, and so did her sisters Kim and Khloe," the insider told the ENQUIRER. "They don't want Scott taking the kids anywhere now unless someone is with him."