Evelyn Lozada Says She's 'Scared Of Not Being Loved' In Tearful Post Chad 'Ochocinco' Johnson Interview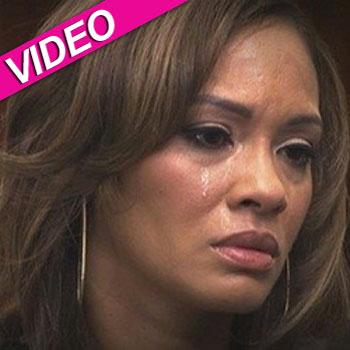 Article continues below advertisement
"You have been rewarded for being a thug among women," Iyanla Vanzant told a tearful Evelyn. "How did you get to stitches in your forehead and living in a hotel?" she went on to ask.
"Evelyn, that is off. I can ignore a push and a shove, but when he messes with my image, then now we've got problems," said the inspirational speaker.
As RadarOnline.com previously reported, Lozada filed for divorce from the NFL star following a violent incident on August 11 when he allegedly head-butted her. The six-time Pro Bowl receiver was then arrested by Davie, Florida police and released from jail on $2,500 bond.
After being picked up by the Miami Dolphins earlier this year when the New England Patriots cut him, the wide receiver's contract was terminated by the team within 24 hours of the domestic abuse scandal, and not only is he off the team, publicity-hungry Johnson is also off the air because VH1 canceled the reality show Ev & Ocho about their Caribbean wedding that was set to air in September.
"What scares me the most is..." Iyanla prompted, to which the 37-year-old reality star sobbed, "Not being loved."
Article continues below advertisement
The confrontation is a brave move for Evelyn, who opened up about her life meltdown for the first time on ABC's Nightline on Friday, revealing that she she still worries about what will happen to her ex.
"It's the hardest thing in the world to walk away from someone that you really love," Lozada said. "But you have to walk away because I have to protect myself.
"I still love him...I feel bad for him because his life is now a mess."
On Tuesday, serial cheater Johnson decided to spill his heart out through his Twitter profile by posting a photo of his new tattoo of Evelyn's face, along with a bizarre personal description. "Don't follow me...I'm not perfect...I'm not a role model...I'm not into acting yet...Oh and i love all of that from the E to the N," which some say means Evelyn.
For the full episode of Iyanla: Fix My Life, tune into the OWN: Oprah Winfrey Network on Saturday, September 15 and 22 at 10 p.m. ET/PT.