Animal Deaths On The Hobbit Were 'Needless And Unacceptable,' Says American Humane Association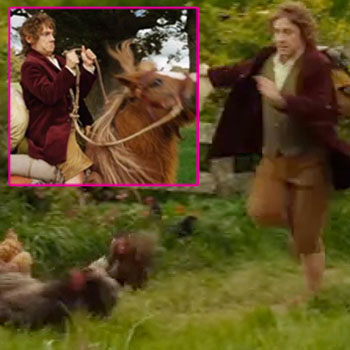 By Debbie Emery - RadarOnline.com Reporter
In light of the shocking revelation that 27 animals died during filming of the The Hobbit: An Unexpected Journey, the American Humane Association has issued a statement slamming the safety on the blockbuster movie set.
"The injuries and deaths of animals living at the working farm where some of the animal actors from The Hobbit were also being housed were needless and unacceptable," said the association, which has protected more than a million animals and claims to have a 99.98 percent safety record, in an e-mail to RadarOnline.com.
Article continues below advertisement
PHOTO: Check Out Joanna Krupa's Hilarious And Fully Uncensored PETA Ad
"The organization renewed its call to the entertainment industry asking for additional jurisdiction and funding to keep animal actors safe not only while they are working on set, but off set as well to address illegitimate suppliers of animals and to ensure proper training, housing and retirement of these important and beloved co-stars of film and television."
The AHA had previously come under fire by PETA as despite there being a representative at the Wellington, New Zealand, filming location, wranglers revealed shockingly dangerous conditions on the farm, that was filled with bluffs, sinkholes and other "death traps."
As RadarOnline.com previously reported, four of the trainers on Peter Jackson's latest installment of the fantasy franchise became whistleblowers and divulged details including the deaths of three horses and numerous sheep, goats, and chickens, sparking an investigation by PETA spanning several months.
Article continues below advertisement
In defense of their staff member, the AHA President and CEO Dr. Robin Ganzert revealed to RadarOnline.com, "We are currently only empowered to monitor animal actors while they are working on production sets. We do not have either the jurisdiction or funding to extend that oversight to activities or conditions off set or before animals come under our protection.
"There are too many incidents off the set and this must stop. It is vital that we work with the industry to bring the kind of protection we have for animals during filming to all phases of production.
"Because of American Humane Association's monitoring of the animal action, which included having a licensed veterinarian on the scene, no animals were harmed on set during filming of The Hobbit: An Unexpected Journey.
"However, upon learning of injuries and deaths of animals while being housed at a working farm 186 miles from the main set and 26 miles from the soundstage, American Humane Association went beyond its jurisdiction and authority to visit, examine and make safety recommendations and improvements to the farm. These recommendations were implemented a year ago, bringing a higher level of animal welfare to all animals living on the site into the future.
Article continues below advertisement
"We owe it to these hard-working and beloved members of our community, just as we work to take care of their human counterparts," Ganzert concluded. "Anything less is unacceptable."
PETA sent a letter to Oscar winning director Jackson highlighting the multitude of horrors on his movie set, and after receiving what they described as a "thoroughly unsatisfactory response" from Jackson, PETA will now be protesting the world premieres of The Hobbit in New Zealand, England and the U.S and demanding a date of when they might hear the outcome of Jackson's own internal investigation.