I Believe I Can Fly! Skydiving Cats Ad Causes Outrage From Confused Viewers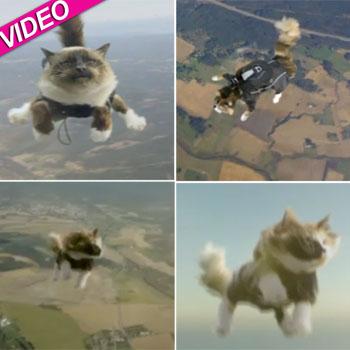 By Debbie Emery - RadarOnline.com Reporter
Time for some Friday feline fun!
A controversial commercial showing dare-devil cats skydiving has sparked an uproar from animal lovers who believed that the poor pussies were really flung out of planes.
The hilarious advert for Swedish insurance company Folksam shows the furry phenomena flying through the air with the greatest of ease, as I Believe I Can Fly by R. Kelly provides the suitably tongue-in-cheek soundtrack.
Article continues below advertisement
The company asked customers to come up with suitable online ads, and Eva – who insures her cat with Folksam – suggested the high-flying felines spelling out her name, according to CNN's sharp-witted correspondent Jeanne Moos.
If the pretty unrealistic looking pack of cats with the wind flying through their fur as they plummet to the ground wasn't enough of a giveaway that the ad was just a case of clever editing rather than actual feline achievement, "The high five mid-air should have been the tip-off," said Moos, who went on to read out her favorite complaints.
"'This is not funny or cute. It is cruel," moaned one disgruntled pet lover.
"That's disturbing. Wrong on so many levels," said another.
"But they are wrong, says the company's marketing director," reveals the CNN reporter, who assured viewers that the cats had not been skydiving for real.
In fact, the five animals who were in the commercial never even left the studio as people were filmed skydiving and then edited out and replaced with cats through the magic of green screen.
Article continues below advertisement
And, need a little windblown fur on four-year-old Sarah? They simply used a not-so-high-tech fan!
While skydiving dogs are more common - with one adventurous pooch even having its own oxygen mask strapped around her ears so she can experience the "ultimate car window" - CNN only found one snippet of video of an actual, real life kitty skydiving.
"Four years ago a member of a Russian parachute club sewed a jump suit for his cat," revealed Moos. "The cat seemed calm until right before they leaped, and afterwards the owner said the cat didn't even pee himself like a lot of people do the first time they jump."