Barking Mad! Doggy Wedding 'I Now Pronounce You Pup And Wife'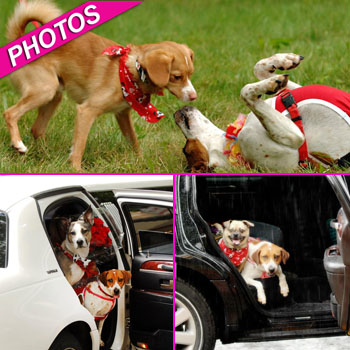 Note to Emily Maynard and Jef Holm: This is how it's done.
Canine bachelorette Fiona, a white and caramel-hound mix from Pennsylvania, has walked down the aisle with her groom, Chico, a cocker spaniel mix she recently gave a rose to, and RadarOnline.com has the super cute video and photos.
The doggy wedding took place earlier this month as part of the Barking Bachelorette Dating Series, a clever drive to raise awareness about shelter dogs in desperate need of homes.
Article continues below advertisement
Sponsored by Holiday House Pet Resort, which offers overnight lodging for cats and dogs, the happy event took place in Doylestown Dog Park, Pennsylvania.
Wearing a white wedding dress complete with a veil and tiara, the blushing bride arrived in a limousine. Her groom looked dashing in a tuxedo.
The couple walked down the aisle as a live choir sang Let Me Call You Sweetheart. There were flowers, a wedding cake and an exchange of collar charms and doggy vows. The bridal party included Fiona and Chico's other four-legged friends.
Well-wishers were asked to make a donation to rescue groups including Partnership for Planned Pets and Animal Alliance.
Holiday House launched the dating series online in the summer. Fiona went on dates with three suitors and fans were asked to vote for their favorite bachelor on Facebook and Twitter.
Fiona's first date was with Tate, a two-year-old Shepherd mix. It included a shopping trip to doggy boutique Life On A Leash, a stroll and a meal.
Article continues below advertisement
But in the end it was Chico who won her heart and a home with the Emmons Family of Doylestown. Doggy daycare director Lori Busdeker adopted Fiona.
She told PhillyBurbs.com: "We have amazing dogs and I know there's sic wonderful people out there that are looking for the right dog."