Me, Tarzan! Woman Claims She Was Raised By Monkeys In The Jungle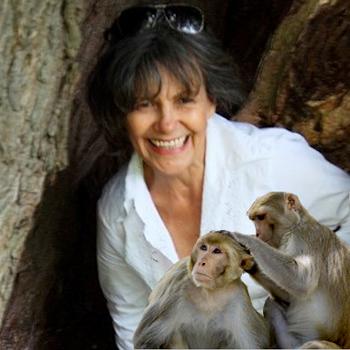 A UK homemaker has come forward with a remarkable claim -- that she was the adopted daughter of a family of monkeys!
Marina Chapman's story makes her sound like a real-life Tarzan, the fictional character raised by apes in the African jungle after being orphaned. But this time the setting is Colombia in South America and the adoptive parents are a colony of capuchin monkeys.
Marina -- who thinks she was born in 1950 -- claims to have been kidnapped when she was five but was left abandoned in the jungle.
Article continues below advertisement
"It's assumed that the kidnap went wrong," Marina's daughter Vanessa James told The Sunday Times.
"All she can remember is being chloroformed with a hand over her mouth. And all she can recall of her life before that is having a black doll as a toddler."
James, who is helping her mother write a book called The Girl With No Name, added: "She obviously learned to fend for herself and only once got very ill when she ate poisonous berries."
According to Marina, hunters found her five years later, took her to the city of Cucuta where she was sold to a brothel. Beaten and groomed for prostitution she escaped but spent years living on the streets.
In her mid-teens she worked as a maid for a Colombian family. Now calling herself Marina Luz, in her mid-20s she moved to Bradford, England with a neighboring family who worked in the textile trade.
Article continues below advertisement
In 1977 she married a local man called John Chapman and the couple had two daughters. James talks about her mother's unusual child rearing skills.
She says: "When we wanted food, we'd have to make noises for it…
"I got bedtime stories about the jungle, as did my sister. We didn't think it was odd – it was just Mum telling her life."
Marina's memoir The Girl With No Name: The Incredible True Story of a Child Raised by Monkeys hits bookshelves in April. A TV documentary about her life is also in the works.