The House That Cocaine Built! Inside Drug Lord Pablo Escobar's Colombian Vacation Home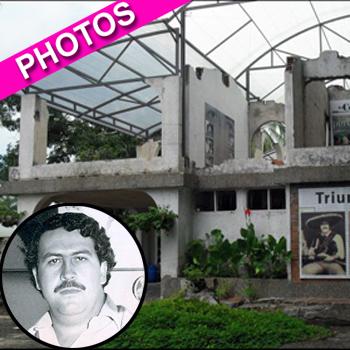 Article continues below advertisement
"This site does not glorify Pablo Escobar, but what he did is part of our history," Oberdan Martinez, the administrator of the theme park and museum, told the Global Post in 2010. "We are paying homage to his victims."
The mansion that Escobar once called his home away from home is now a museum adorned with enlarged photographs of bomb attacks and somber funerals of politicians and presidential candidates assassinated by his hired killers.
Not everything in the South American theme park has a grisly theme, as the Jurassic style landscape boasts dinosaur statues landing deftly on ponds, and an oddly out-of-place giant pink hippo surrounded by tusks.
Water slides and sound effects simulating the historical period have been added to entertain children. Monkeys, toucans, geese, zebras, ostriches and flamingos populate the site while hippos still swim in the artificial lakes.
Article continues below advertisement
About 200 acres of the land were handed out to former guerrillas and paramilitary gunmen, who disarmed in exchange for government benefits, as well as to families displaced by the war.
The park had approximately 65,000 visitors in 2009, although administrators have hoped for something more ambitious — as many as 500,000 people by 2013, according to its website.
The infamous former resident became the most prominent figure in the international drug industry in the 1970s and 80s when the cartel chief became so powerful he could bribe government officials around the globe.
In 1989, Forbes magazine estimated Escobar to be one of 227 billionaires in the world with a personal net worth of close to US$3 billion while his Medellín cartel controlled 80% of the global cocaine market.
Following a joint special operation between the Colombian National Police and the United States, Escobar was shot and killed on December 3, 1993 in a hail of gunfire, although many believe that the fatal bullet through the ears was self-inflicted.