The Search For Jimmy Hoffa's Body Leads Police To A Michigan Driveway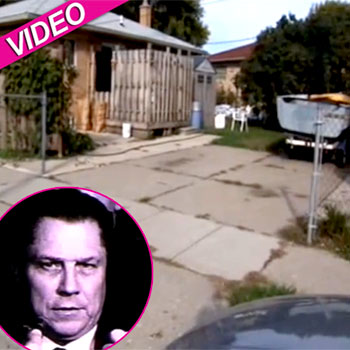 By Debbie Emery - RadarOnline.com Reporter
One of the most notorious cold cases in the history of organized crime could end in a driveway in suburban Michigan.
Police are searching the ground outside the Roseville home near Detroit after a dying man claimed that he saw a body being buried there around the same time that teamster boss Jimmy Hoffa vanished 37 years ago, reported the Detroit Free Press.
A penetrating RadarOnline.com used by the Michigan Department of Environmental Quality supported the terminal cancer sufferer's statement when it discovered that "the earth had been disturbed at some point in time," explained spokesperson Brad Wurfel. On Friday, soil samples will be sent to a forensic anthropologist at Michigan State University to "have it tested for human decomposition," said Roseville Police Chief James Berlin, but results are not expected until next week.
Article continues below advertisement
As RadarOnline.com previously reported, while no body was ever found, Hoffa was declared legally dead in July 1982 after being last seen on July 1975, outside the Machus Red Fox, a suburban Detroit restaurant, at age 62.
On the day of his disappearance, Hoffa had told colleagues that he was going to meet mafia bosses Anthony Giacalone and Anthony Provenzano but they both denied arranging the rendezvous. Police found Hoffa's car parked at the restaurant but no trace of him was ever seen again. The FBI theorized that Provenzano and Giacalone had Hoffa killed to prevent him from regaining the Teamsters presidency and ending the mob's influence over the union and easy access to Teamster pension funds.
Police Chief Berlin believes that something is buried under the driveway, but is not sure if it is the body of the infamous teamster. "We do not know if this is Jimmy," he cautioned, adding the anomaly could be a dead dog or a tree root. However, "If there is a body and even if it isn't Hoffa, it could still help solve another homicide.
"It's kind of hard to believe they'd drive Jimmy over here and bury him," he said incredulously, referring to Hoffa's killers.
Article continues below advertisement
Hoffa's daughter, Barbara Crancer, is not easily convinced that her father will ever be found. "I don't put much credence into it," she said. "I don't think the case will ever be solved. Too many people are dead and gone. I believe there are people out there who know what happened, but they're not talking.
"After so many false turns, I'll be surprised if anything comes of it. But as his daughter, I would like to have a body to bury."
MORE ON:
hollywood happenings
The search is the latest in a string of investigations from thousands of tips that have spanned more than three decades, including speculation that Hoffa was entombed in concrete at Giants Stadium in New Jersey, ground up and thrown in a Florida swamp or obliterated in a mob-owned fat-rendering plant. Police also searched under a backyard pool north of Detroit in 2003, under the floor of a home in 2004 and at a horse farm northwest of the city in 2006.
Article continues below advertisement