Beheadings & Mass Mutilations: Inside Mexico's Crazy, Violent Drug War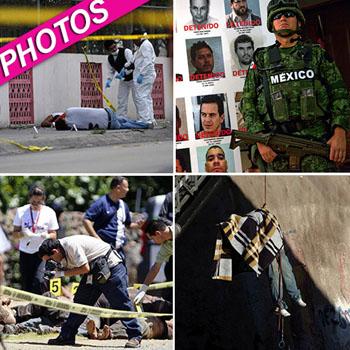 By Debbie Emery - RadarOnline.com Reporter
Last week saw yet another wave of bloody violence on the drug-filled streets across Mexico, as 17 mutilated bodies were found bound with chains and ropes, and blinded with duct tape.
The grisly discovery was made on a roadside in Tizapan El Alto on the south shore of Lake Chapala, the western Mexican mecca for thousands of Texan and other American retirees, reported the Huffington Post, and is the latest gruesome act in the ongoing bloodshed between drug-dealing gangs.
Article continues below advertisement
According to a coroner report, all of the victims were tortured and then killed with execution-style gun shots.
The murders come in the wake of a bloody massacre in May when 18 beheaded bodies were stuffed into two cars near the highway connecting the Chapala lakeside communities with the nearby metropolis of Guadalajara.
"Our border regions with other states are vulnerable to this kind of action and the dumping of bodies," explained Jalisco state prosecutor Tomas Coronado Olmos, adding that they were killed elsewhere and dumped at the property.
Once home to writer Tennessee Williams, the Chapala region's stunning mountain scenery and warm weather made it a popular lakeside vacation spot before methamphetamine producers transformed it into a war zone for drug lords and gangs fighting over trafficking routes and markets.
Last Monday, two people died and two were injured during a shootout with local police near the border between Jalisco and Michoacan. The week before, 16 bodies were found across the state of Tamaulipas just two days after the arrest there of one of the region's top drug bosses, Gulf Cartel head Eduardo Costilla Sanchez.
Article continues below advertisement
Such deaths have become commonplace as multitudes of murders take place in plain sight while the government seems incapable of seizing control and quelling the bloody conflict that has taken 50,000 lives in less than six years.
Various gangs control different territories, the most notorious of which are the traditional Sinaloa network and the vicious new Zetas sect, who are increasingly penetrating enemy territory as the feud begins to resemble a civil war, according to the Los Angeles Times.
"It's getting worse all the time," said Leonel Aguirre, head of the independent Sinaloa Human Rights Defense Commission, which tallies drug-war killings and disappearances. "Executions, decapitations, the melting of bodies.... Annihilate and terrorize. And the really bad thing is you get used to it."
Four people a day were killed in Sinaloa, which is located in northwestern Mexico and has 2.7 million residents, in the first 4 1/2 months of this year, according to statistics from the state prosecutor's office. An untold number of dead and missing are never found or recorded.