Woman Disfigured In Meth Explosion Can't Quit Her Habit, Arrested For Cooking Drug Again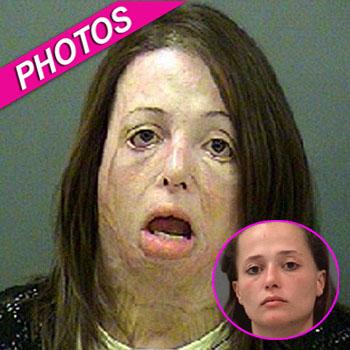 Even after having her face melted off after an illegal meth lab exploded, a Florida woman has been busted again for manufacturing the drug, RadarOnline.com has learned.
Sheriff's deputies arrived at a trailer on Monday and were shocked to find severely disfigured Heather Raybon there with another man, both surrounded by drug paraphernalia in the midst of a working meth lab, reported Fox10TV.com.
Article continues below advertisement
The 31-year-old had been permanently scarred when a drug den blew up in 2004 but even with her face left a distorted, melted mask she couldn't keep away from the addictive drug.
In the latest incident, narcotic detectives found materials and ingredients to cook up crystal meth, along with 13 grams of meth powder and 32 grams of meth oil. There was such a strong risk of explosion from the one-pot lab that police called the fire department to safely neutralize it.
MORE ON:
Celebrity Justice
Raybon and William Hindall, who was also at the trailer in Milton, Florida, were both arrested for production of methamphetamine, trafficking methamphetamine, possession of felony drug equipment and possession of listed chemicals to manufacture meth, and are being held on a $35,000 bond.
Police had originally turned up at the seedy location looking for fugitive Brian Mauldin, and there remains a warrant out for his arrest for the possession of listed chemicals to manufacture methamphetamine.