Exclusive
Brooke Mueller Still Has Custody Of Twins Despite Apparent Drug Relapse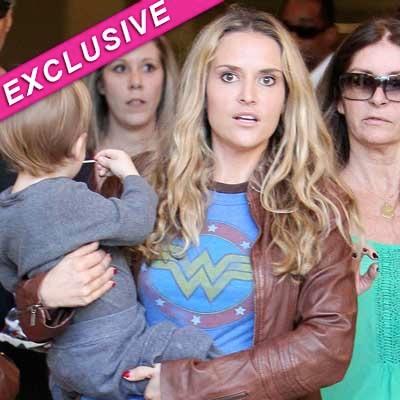 By Jen Heger - RadarOnline.com Legal Editor
As pictures emerged of a disheveled Brooke Mueller appearing to be holding a tin foil crack pipe, and reports of an apparent drug relapse surface, she still retains custody of her twin boys from Charlie Sheen.
In addition, RadarOnline.com has exclusively learned why child protective services haven't visited Mueller or opened an investigation into her sons' welfare.
"The reason that DCFS haven't visited Brooke Mueller's home, to check on the boys, is because the department hasn't been called to do so, as simple as that," a source with knowledge of the situation tells RadarOnline.com. "DCFS can't just show up at someone's house and demand to interview the parents and children. DCFS goes out when a call has been made to alert the department about a concern involving a child, and that hasn't been in this situation."
Article continues below advertisement
While there are obviously valid concerns about Mueller's sobriety, our source tells us: "As long as the boys are being well cared for, DCFS won't be getting involved unless they are contacted by someone. It appears that Brooke's twin sons are well cared for by her parents. The simple fact is that there are many parents that are in the throes of addiction, and are functioning. DCFS can't get involved until the department is notified to go out and investigate."
MORE ON:
Celebrity Justice
PHOTO: Charlie Leaving His Attorney's Office
Mueller's parents are currently living with her, at her Los Feliz mansion, as well as a nanny. "Bob and Max are very well cared for little boys. They are safe at all times, and they are thriving," a source close to Mueller tells RadarOnline.com.
Meanwhile, Charlie Sheen is "supposed to see Bob and Max every other weekend. But, Charlie has been very busy recently with work projects," a source close to Sheen reveals.