Charlie Sheen & Brooke Mueller Officially Divorced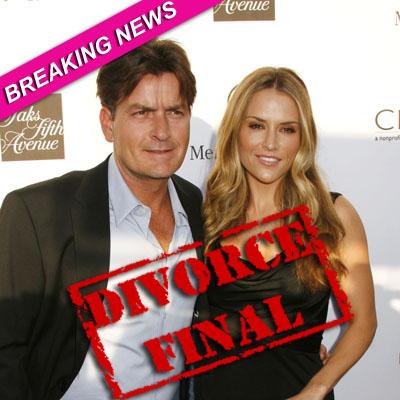 by RadarOnline.com Staff
Charlie Sheen and Brooke Mueller are officially no longer married.
The split between the former Two and a Half Men star, 45, and Mueller, 33, became official Monday; Sheen filed the paperwork November 1 and had to wait the required six months before the breakup became legal -- and that came on Monday, May 2.
Sheen and Mueller were married in 2008. On Christmas day 2009, Sheen was arrested on domestic violence charges for a knife-point attack on his now-ex-wife.
Article continues below advertisement
Sheen and Mueller have 2-year-old twin boys named Max and Bob; Sheen will pay $55,000 a month in child support, per their divorce agreement.
During his media blitz this past March, Sheen exclusively showed RadarOnline.com pictures of a bag he claimed contained drug paraphernalia belonging to Mueller, who's been in and out of rehab over the years.
"Chaos and mayhem spilling out of the bag she punctures," Sheen said. "I've been looking at it too long.
"That's why I divorced the b*tch."
Sheen's My Violent Torpedo of Truth/Defeat is not an Option tour continues Tuesday at the Comcast Arena in Everett, Washington.