VIDEO & PHOTOS: Charlie Sheen Has His Eye On His Next Goddess -- Black Swan Star Mila Kunis!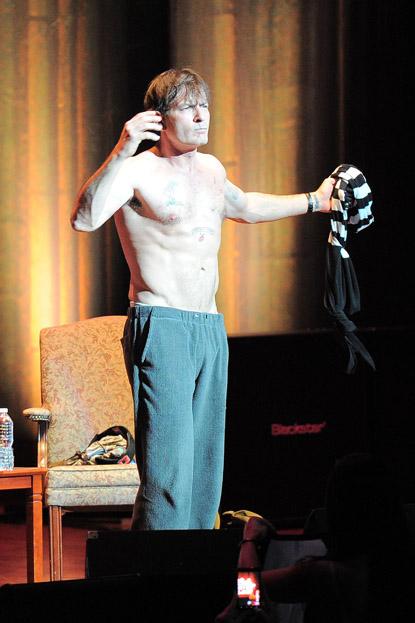 Charlie Sheen was "winning" at the Palace Theater in Columbus, Ohio on Wednesday night, during the fourth stop in his My Violent Torpedo Of Truth/Defeat Is Not An Option Tour, and RadarOnline.com has video and photos from his act.
During his set, Sheen -- who at one point, ripped off his shirt yet again to expose his chiseled chest -- said he has his eye on a new celebrity goddess -- Black Swan star Mila Kunis; he also had people chanting his catchphrases as women in the crowd flashed him.
Article continues below advertisement
The former Two and a Half Men star, 45, entered the theater to a standing ovation, clad in a Columbus Clippers baseball jersey with the name of his Major League alter ego, Ricky "Wild Thing" Vaughn, inscribed on the back.
According to Kevin Joy of the Columbus Dispatch, "Sheen didn't do stand-up or a monologue.
"The manic motormouth seen in recent interviews had slowed to a gravelly growl - a laid-back persona that was almost likable, if the man had something to say."
PHOTOS & VIDEO: Charlie Sheen Winning Again In The Windy City
Of course, the salty star did have his "Charlie being Charlie" moments, such as when he said he'd like to make Black Swan beauty Mila Kunis his next goddess.
"Here's the good news - my goddesses have already f**king approved her. She's pre-approved!" Sheen said. "I would have great tolerance for many missing items provided it involves Mila f**king Kunis: If Mila Kunis is stealing your s**t , trust me, you're still f**king winning, you're still winning at that moment.
Article continues below advertisement
"I'm going to go on her Facebook page and discover her likes... I'm going to buy them all and then she can come steal them. A super f**king hot thief named Mila Kunis. Mila, please, we we have a warehouse full of your favorite s**t to steal."
In another offbeat exchange, Sheen was flashed by a few female fans, to which he mused, "Wow, that's f** king fabulous." (Sheen also removed his own shirt in a manic moment during the set.)
Sheen was on the fourth stop in his 20-city My Violent Torpedo of Truth/Defeat Is Not an Option tour, and has gotten much better results since adjusting his act after Saturday night's debacle in Detroit.
Sheen connected well with the Columbus crowd, who chanted "Seven Gram Rocks!" in honor of the candid cocaine admissions he made to ABC's Andrea Canning during last month's media blitz.
"Do me a favor," Sheen, who was once the highest-paid actor in TV history, told the Columbus crowd. "Go buy a T-shirt. I don't have an f**king job."