PHOTOS & VIDEO: Charlie Sheen Winning Again In The Windy City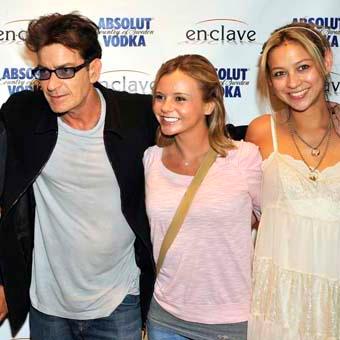 Charlie Sheen, currently on his 20-city My Violent Torpedo of Truth/Defeat Is Not an Option tour, received a scattered standing ovation at the Chicago Theatre on Sunday night, after bombing the night before in Detriot.
The former Two and a Half Men star, 45, made some bold changes to the format of the program after disappointed fans left the Detroit show calling for refunds, leading the the media to speculate how much longer the tour would continue.
Article continues below advertisement
By Sunday, Sheen had eliminated a rapper who was his opening act, his stream-of-consciousness ramblings, and various pre-taped video highlights of his career in lieu of a talk show format in which the actor discussed the "odyssey" that is his life, both personally and professionally.
A modest Sheen dubbed his Chicago show "the most epic night in Chicago f**king history."
"It was a canny shift of the show's tone, from epic self-aggrandizement to a more casual, at times even likable, persona," the Chicago Tribune's Steve Johnson wrote.
Sheen addressed his Detroit debacle during Sunday's show, reading a letter he wrote to the Windy City citizens.
He said, "Dear f **king awesome Chicago. I am a veteran of a disturbing odyssey that had me question the very nature of my soul... I am speaking, of course, about last night in Detroit."
Johnson wrote that "the Chicago crowd was ready to please him, too, delivering an unbidden 'Detroit Sucks' chant right away."
Article continues below advertisement
Sheen finished his act strong in Chicagoland, according to the Chicago Sun-Times.
"Following tepid applause and a scattered standing ovation, lots of patrons wasted no time filing out," the paper wrote. "A number of them stuck around as Sheen lingered onstage handing out T-shirts to folks in the crowd.
"As Bruce Springsteen's anthem Born to Run blasted over loudspeakers, a massive curtain closed and Sheen disappeared from view."