Secrets Of Charlie Sheen-Snoop Dogg Song, From Their Producer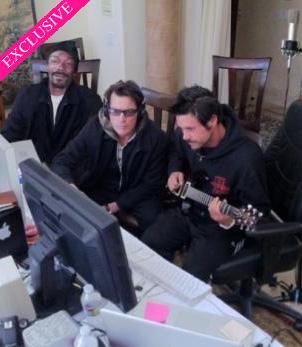 By RadarOnline.com Staff
The man behind the highly-touted musical stylings of Snoop Dogg and Charlie Sheen is sharing only with RadarOnline.com how the collaboration came to be.
Robert Patterson, a well-known rock musician, who has the role of musical director for Sheen's My Violent Torpedo of Truth/Defeat Is Not an Option tour, says the track is "already mixed and mastered and we're getting ready to release it.
Article continues below advertisement
"It was a collaboration of ideas," Rob says." Charlie and I wanted to put some music in for the show and came up with an idea of maybe getting somebody to rap. He came up with some names and Snoop Dogg was at the top of the list. Within half an hour we were talking about having him come down and do it. He was extremely excited."
Patterson wrote and produced the song, and Snoop "came in and did vocals. It's basically me, Snoop and Charlie doing our thing," he says.
"It's not really a deep This Is The End by The Doors-type of track. It's a fun, hip hop dance track and Chris Arvan did a great job mixing it.
"Its not necessarily about Charlie. Its about winning, in life and in general. In fact it's called Winning. There's no other word to use."
The plan is also to film a video after the tour ends May 3, Patterson reveals. He'll be in it but don't expect to see him dancing.
Article continues below advertisement
"I don't dance. My fiancé Carmen Electra does not let me dance. It's against the rules."
But what about Charlie Sheen as a vocalist, RadarOnline.com wanted to know.
"You'll have to wait and see," he says. "Just know that it's a fun track and it's not about Charlie. It's a mainstream track."
You can get release date info for the track by following Rob on twitter
RELATED STORIES: