Exclusive
AUDIO: Charlie Sheen Hooks Up With Snoop Dogg For 'Torpedo' Tour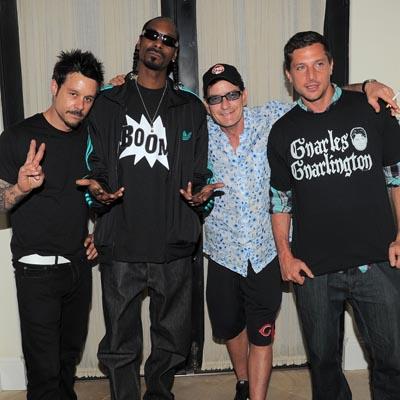 Who knew Charlie Sheen and Snoop Dogg were homies?
As the Two and a Half Men star prepares to perform his show Charlie Sheen LIVE: My Violent Torpedo of Truth at Detroit's Fox Theatre Saturday, the actor has hooked up with Snoop Dogg and will be bringing him along to perform on his sold out tour, RadarOnline.com has learned.
"This is very true, it's radical," Sheen said Friday on the Mojo In The Morning radio show referring to Snoop's appearance on his tour. "We're all just lucky to have him."
Article continues below advertisement
The hosts asked Sheen if he'd be rapping on the tour, to which the actor replied: "Depends on what type of mood I'm in."
"With the right background vocal I can rap. I need Lady Gaga immediately! Get me Gaga."
The 45-year-old self proclaimed "Warlock" also announced the two female winners who will sing the National Anthem to kick off his tour.
One of the anthem winners has offered Sheen and his entourage the free use of her "porn bus" that she owns, complete with a stripper pole, which, not surprisingly piqued Sheen's interest: "I have three words for you…fuel that bas***d!" He said.
With the Torpedo tour just one day away, we're expecting all sorts of rants and surprises from Sheen, including the possibility of a duet with Snoop.
On Thursday, Sheen had Snoop over at his Beverly Hills mansion and the two recorded a song called Winning, produced by Rob Patterson who will also be manning the guitar during Sheen's tour.
Ex-porn star, Simon "Dirt Nasty" Rex will also contribute music on the tour.
Article continues below advertisement
Stay with RadarOnline.com as we will bring you all the details of Sheen's Violent Torpedo tour debut.