Linda Hogan Challenges Charlie Sheen To Cage Fight After Dog Abuse Claims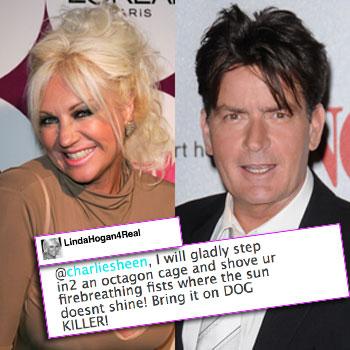 Charlie Sheen's ex-wife Denise Richards made allegations that he's an animal abuser and now dog advocate Linda Hogan has stepped forward challenging the former Two and a Half Men star to a battle with her in the octagon, RadarOnline.com is reporting.
"I will gladly step in 2 an octagon cage and shove ur firebreathing fists where the sun doesn't shine!" Hogan posted on her Twitter account Monday afternoon.
Article continues below advertisement
MORE ON:
hollywood happenings
One Twitter user in particular, Jazypooo, bombarded the 45-year-old actor with messages like, "u let ur dog die from malnutrition? Hire someone to feed ur animals. All ur money and u can't feed ur dog???"
'ur not good enough to wipe the s--- off Richards' shoes! She's a saint! YOU CHARLIE R AN A--! CHARLIE SHEEN IS A DOG KILLER!'
RELATED STORIES
EXCLUSIVE: Charlie Sheen's Movie Comeback -- On And Off Screen!