Exclusive
EXCLUSIVE: CBS Wants Charlie Sheen Back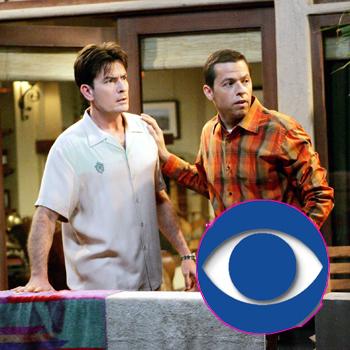 CBS wants Charlie Sheen back on its Two and a Half Men, and they want him back now, RadarOnline.com is reporting exclusively.
The top exec at the Eye network is ready, willing, and able to forgive and forget all of Sheen's recent antics and continue broadcasting the series, with Sheen back in the starring role, a well-placed insider tells us.
According to our source, CBS President and CEO Les Moonves has been speaking directly with top execs at Warner Bros. Television -- the company that produces Men and also fired Sheen.
Article continues below advertisement
Moonves has also spoken directly to 'Men' co-creator and executive producer Chuck Lorre, who has been the target of Sheen's "violent hatred."
Moonves wants a solution that brings Sheen back to the show in a situation everyone can live with.
"Moonves told Chuck Lorre that he should 'let us handle Charlie'," the source says.
Lorre produces two other huge CBS hits, The Big Bang Theory and Mike & Molly. The prolific writer/producer also has several other projects in development for CBS.
"Moonves wants to get the show back on the air. He's all for it," the insider adds. "He says certain people need to forget anything and everything Charlie's done recently and just move on with the business at hand.
"The core issue is, as he put it, the volatile relationship between Charlie Sheen and Chuck Lorre. He believes that if CBS and Warner Bros. TV honchos can find a way to get Chuck and Charlie to speak again, cooler heads will prevail."
Article continues below advertisement
Discussions about the possibility of bringing Charlie back to Two and a Half Men have been going on in earnest the last couple of days.
As RadarOnline.com has been reporting, the actor was fired earlier this month, with CBS and Warner Bros. TV issuing a statement that "Warner Bros. Television has terminated Charlie Sheen's services" for their hit sitcom.
Since then, in several exclusive interviews with RadarOnline.com, Sheen's spoken about his "winning" attitude, life with his "goddesses" and regularly referred to everyone connected with 'Men' as "trolls."
He also filed a $100 million lawsuit against Lorre and Warner Bros. TV.
Sheen is now taking his rant on the road, and has 20 concert dates planned, including one at New York's Radio City Music Hall.
It's unclear how far along CBS' Moonves is in convincing the powers at Warner Bros. TV to rehire Charlie or if he'd accept their offer if one is made.
RELATED STORIES: