Charlie Sheen Barks Back At Twitter Fan Over Dog Death Claim: 'Shut Your Evil Mucus-Hole'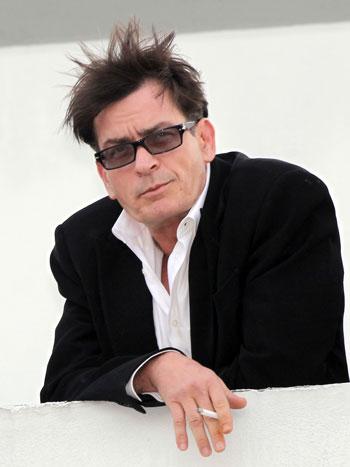 Charlie Sheen just fired off a vitriolic tweet at a fan who took jabs at him over purported allegations of animal abuse by his ex-wife Denise Richards, regarding the custody of a pug dog the exes once shared.
Here's how it all went down: earlier Monday, the pugnacious actor, 45, wrote, "We must bombard with Warlock Napalm, that traitor and loser whore
#DUH-neese POOR-ARD. A VILE KIDNAPPER AND NOW DOG THIEF. HATE."
Article continues below advertisement
One of the rumors is that one of the actor's pugs died from malnutrition, causing Richards to keep the other one from Sheen.
The tweet caught the attention -- and ire -- of Twitter user Jazypooo, who began blasting the actor over the rumors linking him to animal abuse, tweeting, "u let ur dog die from malnutrition? Hire someone to feed ur animals. All ur money and u can't feed ur dog???"
Sheen responded to Jazypooo, "Shut your evil mucus-hole you truth terrorist. You LOSE every time a mirror implodes from your barbed and gristle image. YBW c."