Glimpse Inside Death Row: A Day In The Life Of Scott Peterson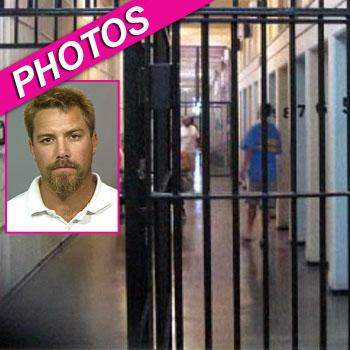 It has been eight years since America was gripped by the murder trial of Scott Peterson, who was convicted of killing and dismembering his pregnant wife Laci and his unborn son Conner on Christmas Eve in 2002, then dumping their bodies into the San Francisco Bay.
Peterson was not only guilty of killing his beautiful wife and baby but over the course of the trial, the smooth talking fertilizer salesman drew even more public outrage when he was exposed for having an affair with a woman named Amber Frey.
Article continues below advertisement
Peterson, who has always maintained his innocence, has spent the last seven-and-a-half years on death row at California's imposing San Quentin, a prison entirely impenetrable to the media for nearly a decade, until recently when it opened it's "Condemned Row" doors to reporter Nancy Mullane, who was granted access to research her book Life After Murder.
Once inside the walls, she was able not only to observe Peterson and his daily activities but was also able to get some photographs of him as he passes time on "Condemned Row." Mullane talked about Peterson's day to day life with TODAY's Matt Lauer.
Death row at San Quentin is divided up into three sections. A maximum security section for the most dangerous and unruly inmates, a more generic area that houses more than 600 convicts, and lastly, a more relaxed section where Peterson resides.
While still not the most ideal living conditions, in this section, inmates, Peterson included, are allowed five hours outside a day where they can exercise and shoot baskets.
MORE ON:
Celebrity Justice
Article continues below advertisement
"He is in a very confined environment living in this tier of the building which is a more prisoner-friendly section of death row with 68 other inmates. He has access to the roof from his tier," said Mullane.
As RadarOnline.com previously reported, Peterson and his attorney Cliff Gardner are currently appealing the verdict stating juror misconduct, incorrect rulings and erroneous evidentiary decisions. The appeals process is expected to take years.