Inside Scott Peterson's Life On San Quentin's Death Row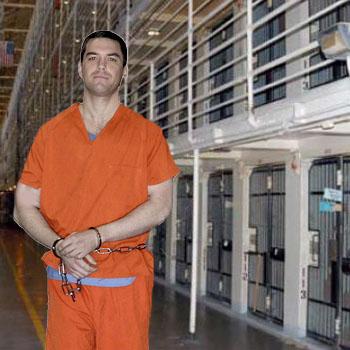 By Debbie Emery - Radar Reporter
As the California Supreme Court considers convicted murderer Scott Peterson's appeal application over the coming months, RadarOnline.com has taken a closer look at his life behind bars on death row in San Quentin prison.
The 39-year-old San Diego native was sentenced to death after a San Mateo jury found him guilty of murdering his pregnant wife, Laci Peterson, and their unborn son, Connor, around Christmas Eve 2002.
Article continues below advertisement
As RadarOnline.com previously reported, death penalty lawyer Cliff Gardner, who filed the 423-page appeal document last Thursday, said that the case generated such intense publicity almost from the moment the mom-to-be disappeared that his client was deprived of a fair trial.
"Before hearing even a single witness, nearly half of all prospective jurors admitted they had already decided Mr. Peterson was guilty of capital murder," Gardner claimed.
The appeal process could take months or years due to a backlog of death penalty cases, meanwhile one of America's most hated men has the privilege of spending five hours a day outside of his cell doing recreational activities such as playing basketball, jogging, walking or board games, reported FoxNews.com.
According to prison spokesman Samuel Robinson, all prisoners are allowed six cubic feet of personal property. "This can include legal documents, photos, letters, and items that they are allowed to purchase at the canteen (hygiene and allowable food items)," he said.
Article continues below advertisement
As with other inmates "on condemned status" (death row), he lives in a single cell and the former fertilizer salesman has not had a job assignment since he moved to San Quentin.
Peterson -- who has always maintained his innocence -- appears to get on well with his fellow prisoners and staff and has not gotten in any angry interactions with them or altercations, revealed Robinson, explaining that he has the opportunity to socialize with 34 other people also awaiting the death penalty during his recreational time.
The dark-haired killer had such a strong female following during the early years of his sentence that he was nicknamed "Scotty Too Hotty," but the prison representative said the flood of fan mail has slowed down and he is not getting as many letters "as he initially received."
Located in Marin County in northern California, San Quentin's death row has been described as "the largest in the Western Hemisphere," and "the most populous execution antechamber in the United States." Records from December 2008 show that there were 637 male inmates in its Condemned Unit.
Article continues below advertisement