Convicted Wife & Baby Killer Scott Peterson Appeals Death Sentence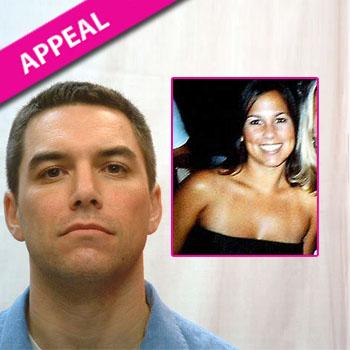 By Debbie Emery - RadarOnline.com Reporter
The cold-hearted murder of his pregnant wife and their unborn baby made Scott Peterson one of the most hated men in America, and now the convicted killer is appealing his death sentence, claiming he did not receive a fair trial.
The automatic appeal was filed on Thursday to the California Supreme Court, eight years after he was found guilty by a San Matteo jury for the murder of Laci Peterson, and their unborn son, Conner, reported CBSNews.com.
Article continues below advertisement
In the appeal, Peterson's lawyer argued that the overwhelming publicity the trial received, incorrect evidentiary rulings, juror misconduct and other errors deprived him of a fair trial, claiming investigators never directly proved "how, where or when" the murder occurred.
Peterson claimed that Laci was killed sometime in the morning of December 24, 2002 after he left their Modesto home to go fishing in the San Francisco Bay. Prosecutors believe she was suffocated in her home but his attorney claims there is no evidence to support that.
Noted death penalty lawyer Cliff Gardner, who filed the 423-page document Thursday, said that the case generated such intense publicity almost from the moment the mom-to-be disappeared that he was deprived of a fair trial.
"Before hearing even a single witness, nearly half of all prospective jurors admitted they had already decided Mr. Peterson was guilty of capital murder," Gardner claimed.
Huge crowds gathered outside the courthouse during the high profile trial, with a local radio station posting a large billboard, which had a telephone number for people to call in and vote whether Peterson was a "man or monster," according to the AP.
MORE ON:
Celebrity Justice
Article continues below advertisement
"A mob estimated at more than 1,000 people gathered at the courthouse to await the guilt phase verdict," explained Gardner. "After the guilty verdict was announced, the 12 jurors departing to await the beginning of the penalty phase - and decide whether Mr. Peterson would live or die - were met with wild applause and cheering."
The hard-hitting attorney went on to claim that the judge made several erroneous evidentiary decisions, such as excluding prospective jurors who said they opposed the death penalty, that denied his client justice. He also complained about the police dog who picked up Laci's scent at the Berkeley Marina for having a "dismal record of being wrong a remarkable 66 percent of the time."
Peterson, 39, has always maintained his innocence and continues to do so from death row at San Quentin prison. His appeal is expected to take months if not years to be resolved.
All death penalty cases are appealed to the California Supreme Court, which is struggling to keep up with the pace of cases, according to the AP. There are 725 inmates on death row and no prisoner has been executed in California since January 2006. Lawsuits in federal and state courts have temporarily halted executions.