Exclusive
Lawyer Warns Casey Anthony To Show Up At Civil Trial, Or Face Jail Again!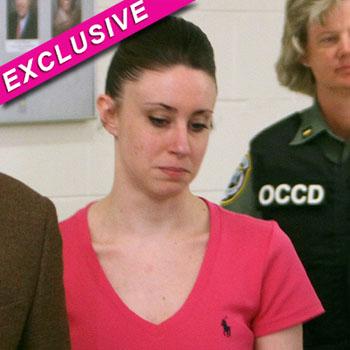 Article continues below advertisement
As RadarOnline.com previously reported, Anthony will be forced to answer key questions about Caylee's disappearance and death under oath during the civil trial which is scheduled to begin in January 2013 -- something she is vehemently opposed to.
Anthony was deposed briefly last year, and despite the court allowing her testimony to be videotaped so she did not have to appear in person, she wore a wacky disguise throughout the proceedings and refused to answer the majority of the questions.
Anthony's lawyers have said it isn't safe for their client to appear in public, leading some pundits to predict she won't attend the civil trial. However, Gonzalez's lawyer, John Dill has issued a stern warning to the Florida woman.
"Casey Anthony could potentially be held in criminal contempt if she fails to appear," Dill tells RadarOnline.com. "I wouldn't tempt this judge if I were her."
Under Florida law, the judge has sole discretion to determine what the sentence is for contempt of court and jail time is one resolution if someone is convicted of the charge.
MORE ON:
Celebrity Justice
Article continues below advertisement
Meanwhile, Casey has been unable to land a book deal because publishers are afraid of the backlash from the public.
"Casey's camp have been in talks with major publishers in New York City, Los Angeles, and Seattle, and the response has been lukewarm at best. All of the publishers have expressed reluctance to work with Casey Anthony because of the anticipated backlash from the public," a source close to the situation previously told RadarOnline.com.