Casey Anthony Wears Wacky Disguise For Deposition In Civil Suit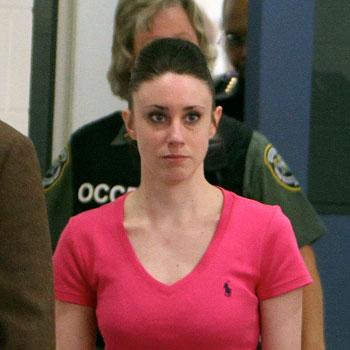 Even though the court allowed her to be questioned on videotape from a secret location, Casey Anthony put on a wacky disguise for a deposition in the civil defamation case against her Saturday.
The Florida woman who was acquitted in July of the murder of her daughter Caylee, is being sued by Zenaida Gonzalez, who says Anthony ruined her life when she falsely claimed that a "nanny" with that name kidnapped the toddler.
Article continues below advertisement
Attorney John Morgan, who represents Gonzalez, told Reuters Anthony appeared angry and upset during the 45 minute deposition. He described her as hyperventilating, with her "nostrils flaring."
But it was her costume for the legal proceeding that really got Morgan's attention.
"She was wearing a Phillies baseball hat. It looked like a wig -- I don't know if it was -- very thick black hair, long ponytail around her shoulder. She had these Dolce & Gabbana big, huge sunglasses on and a T-shirt. The court reporter kinda gasped," he said.
Anthony invoked the Fifth Amendment rather than answering most of Morgan's queries, a matter he intends to take back to the judge in the hope of getting a court order requiring her to answer.
"The real purpose of today was to ask the real serious questions. Did you make it up, why did you make it up, how did you hear about her," Morgan explained.
She did make one startling revelation though. Casey said she had not spoken to her mother Cindy Anthony for three years.