Convicted Killer Scott Peterson's Appeal Terrifies Ex-Mistress Amber Frey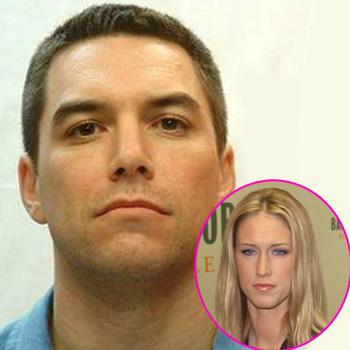 The news that Scott Peterson is appealing his death sentence for killing his wife and unborn son has sparked new fear in the woman he was dating at the time of their murders, her father has exclusively revealed to the National Enquirer.
Evidence supplied by former mistress Amber Frey in the 2004 trial helped send 39-year-old Peterson to death row,  and now the chance that he may get a retrial has terrified the massage therapist.
Article continues below advertisement
As RadarOnline.com previously reported, the automatic appeal was filed earlier this month to the California Supreme Court, eight years after Peterson was found guilty by a San Matteo jury for the murder of Laci Peterson, and their unborn son, Conner.
"Just when Amber thought the terrible ordeal was finally behind her, Scott is going to make her live it all over again," her father, Ron Frey told the Enquirer in an exclusive interview.
Amber, now 37 and married with two children from previous relationships, had fallen in love with the cheating husband after he posed as a widower, telling her he'd "lost" his wife -- two weeks before Laci's actual disappearance from the couple's Modesto, California, home on Christmas Eve 2002.
As Scott pretended to be baffled over their whereabouts, Frey came forward to help and allowed cops to tape phone conversations that she had with him, which were later heard by the jury as the prosecution argued that his desire for her was a key motive in the crime.
Article continues below advertisement
"Amber was hurt and devastated by Scott's betrayal, and she's never recovered," her dad said. "Now she's going to be back in the spotlight again, and what makes it worse is that her two children are now old enough to understand. She had the toughest task a mother can imagine just last year when she finally felt able to explain to (11-year-old daughter) Ayiana how she was duped by a murderer."
With the case back in the news, it's going to be even more difficult, say friends, when her 8-year-old son Justin faces questions from pals at school
Amber does talk about her relationship with Scott on the Investigation Discovery channel's Who the (Bleep) Did I Marry? -- set to air in August -- but that's a lot less traumatic than a new trial would be, according to her father.
"There's a hell of a difference between appearing on a TV show about bad dates, in which she is in control, and possibly having to face Scott in court again and undergo grilling by his lawyers," Frey explained, adding that there is only one bright spot in the prospect of Scott getting a retrial. "Maybe we will finally learn the truth about how and when Laci died."
Article continues below advertisement
Peterson has always maintained his innocence and continues to do so from death row at San Quentin prison. His appeal is expected to take months if not years to be resolved.
All death penalty cases are appealed to the California Supreme Court, which is struggling to keep up with the pace of cases, according to the AP. There are 725 inmates on death row and no prisoner has been executed in California since January 2006. Lawsuits in federal and state courts have temporarily halted executions.