Exclusive
Inside Convicted Petit Family Murderers' Life On Death Row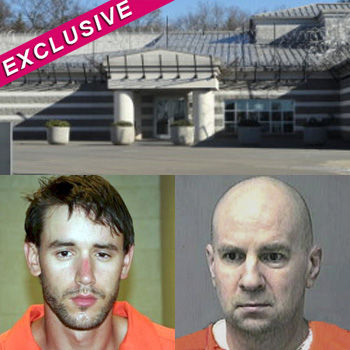 Article continues below advertisement
"The death row prisoners are in their cells for 22 hours a day, they have two hours of recreation a day, Monday through Saturday," Brian Garnett, Director of External Affairs for the Connecticut Department of Corrections told RadarOnline.com in an exclusive interview. "This is a combination of an hour outdoors in a closed courtyard by themselves in the morning, while the afternoon recreation period is indoors in the day room where there are books to read."
As RadarOnline.com previously reported, Jennifer Hawke-Petit, 48, and her daughters Hayley, 17, and Michaela, 11, were tortured and murdered in 2007, and Dr. William Petit was brutally beaten by Hayes and Komisarjevsky.
Unlike other prisoners who get to socialize by playing sports or board games with each other, those awaiting execution are totally segregated and have no group activities.
"We keep them separate for safety and security reasons after instances in the past where there were very serious assaults between death row inmates," explained Garnett.
Article continues below advertisement
During Komisarjevsky's trial last year, defense attorneys argued that 48-year-old Hayes was the more aggressive of the two, and he has since reportedly threatened to kill a corrections officer, according to the New Haven Register.
While they don't get face-to-face time with each other, prisoners can talk to each other, "either through the doors or they yell to each through the ventilation," said Garnett.
"They talk to staff so it's not a situation where they don't have communication with the folks around them."
Along with spending endless hours in their 8-foot by 12-foot personal cells, the death row inmates are seen by mental health specialists three times a week and a chaplain once a week, along with unlimited professional visits with their attorneys and two 15 minute phone calls a day.
As a way to bide the hours, they also have the opportunity to get a job as the unit janitor for the death row tier, explained Garnett.
Article continues below advertisement
"They have three meals a day in their cells. One day it might be hot dogs, another it might be chicken. It's a variety of vegetable and protein, " he revealed about the standard prison faire.
One of the few treats the prisoners get is to buy goods or food in the jail commissary (or convenience store), where they can pick up snacks or purchase TV sets, a CD player or a Gameboy to wile away the hours, although the Internet is strictly off limits.
The 11 death row inmates, who range in age from their 20s to 60s, will be the last batch of convicts sentenced for execution at the Northern Correctional Institution since the death penalty was abolished in Connecticut, earlier, but the recent change in law won't change their fate.
"They are still eligible for the death penalty but no one going forward will be," explained Garnett, who added that, "We have had one execution in 2005 and the last one prior to that was in 1960. The one in 2005 was the result of the inmate giving up his appeal and volunteering."
Article continues below advertisement
Dr. Petit Wished 'The Very Best' On His Engagement By Uncle Of Family's Murderer
Dr. William Petit To Remarry Four Years After Family Killed In Horrific Home Invasion