Petit Family Killer Shows No Remorse, Has Nothing To Say To 'Restore The Lives Lost'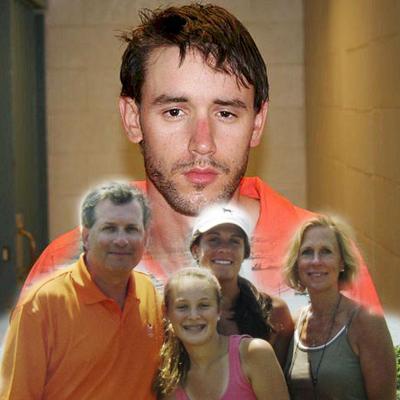 By Debbie Emery - RadarOnline.com Reporter
Convicted triple murder Joshua Komisarjevsky has broken his silence on death row and talked for the first time since he was sentenced in January for Connecticut's most horrific home invasion.
In an interview with the Associated Press, the killer revealed that there isn't anything he could say to Dr. William Petit that "will restore the lives lost."
As RadarOnline.com previously reported, Jennifer Hawke-Petit, 48, and her daughters Hayley, 17, and Michaela, 11, were tortured and murdered in 2007, and Dr. Petit was brutally beaten by Steven Hayes and Komisarjevsky, both of whom have been sentenced to death.
Article continues below advertisement
Dressed in a yellow prison jumpsuit with his hair cut short and talking on a telephone from behind a glass window at Northern Correctional Institution in Somers, Connecticut, Komisarjevsky didn't express any remorse for his cold-hearted crimes, and instead said: "I guess my reaction is not the reaction society expected."
The 31-year-old has gained 30-to-40 pounds since the trial, which he blames on depression and lack of exercise. He decided to do the rare interview out of curiosity, he claimed, revealing how he fills the long hours in solitary confinement by drawing, reading and responding to hate mail as well as notes from supporters, and watching the few television channels he has, including the Spanish-language network Telemundo.
"No hablo espanol, so that doesn't do me much good," Komisarjevsky said with a laugh.
On a more dark and serious note, he revealed, "Some days you're just overwhelmed by the isolation and the difficulties in communicating with loved ones, dealing with your own crisis of conscience."
While a new law passed in Connecticut earlier this year repealing the death penalty for any future convictions, it will still stand for Komisarjevsky and Hayes, who are both scheduled to be killed by lethal injection.
Article continues below advertisement
"In order for some to swallow this bitter pill, it was inevitable that we would be left out," Komisarjevsky said about his fate.
"I don't think I'll be executed against my will," he added, saying, "I think if I volunteer the state will execute me."
As to whether he will take affirmative action to end his own life, Josh hasn't yet decided. "I have my days. I think everybody on death row has their days. Some days you'd consider it. Some days you don't," explaining that he does worry about the affect it would have on his parents and remaining friends.
"The reality of my situation is that I'm going to die in prison," he said introspectively. "It's simply a matter of what age. It's a very surreal experience to be judged so worthless that society wants you dead.
"I, like everyone else, has to get up every day and look in the mirror."
During their respective trials, Komisarjevsky and his accomplice Hayes both blamed the other, and now they have to see each other in the corridors of the solitary confinement center, but they don't chat.
Article continues below advertisement
"Frankly, we don't have anything to talk about," said Josh. "I'm sort of taking the stance let bygones be bygones. I know what I'm culpable for and he knows what he's culpable for."
As for the horrific night of terror he inflicted on the Petit family before setting their house on fire, Komisarjevsky declined to comment to the AP interviewer directly about his crimes, saying: "I try really hard not to think about it."