Exclusive
EXCLUSIVE DOCUMENTS: Drug Cartel Wanted Danielle Staub Dead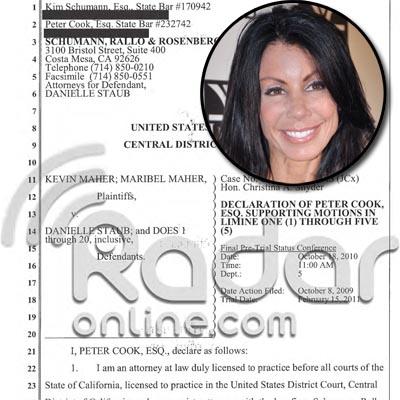 The man who knew Danielle Staub as a hooker in Miami - before she was famous - has claimed a drug cartel wanted the Real Housewives of New Jersey star dead after a botched drug deal.
Daniel Aguilar was questioned under oath in a marathon deposition in Diamond Bar, California last month, in association with a slander suit against the star filed by her ex-husband Kevin Maher.
In explosive testimony, obtained exclusively by RadarOnline.com, Aguilar recounted how in the 1980s the mother-of-two -- then a prostitute, known as Angela Minelli -- became involved with the notorious Medellin Cartel, which was run by criminal leader Pablo Escobar.
Article continues below advertisement
She was introduced to the organized network of drug suppliers and smuggled by Aguilar, who was an "enforcer" of the clan.
He said Staub would often do drugs at his safe house - a haven of "drugs, weapons, cash" - including marijuana cigarettes that she'd "sprinkle" with cocaine.
Aguilar saw her do "more than 50 or 100 times," he told authorities.
"We became intimate friends... she would do her drugs... and sometimes I'd wonder was she hanging out for the drugs, which most girls back then did," he stated, in the documents.
In his deposition, Aguilar recalled how Staub soon went from dabbling in drugs to wanting to sell them, which led to her becoming a marked target for his cartel.
He said, "She started talking about, you know, 'I need to get money. I need money to do things.
"So she came to me and she says, 'I have this guy and he wants to buy big weight... four kilos of cocaine."
But the deal went bad when the $100,000 worth of cocaine was stolen during the transaction, leaving an infuriated Staub to claim she had been "ripped off".
Article continues below advertisement
Aguilar recounted, "Even my men were saying, 'We should just kill her. Get her out of the way. She's nothing but a prostitute and a b**ch.'"
Aguilar said he saved her from likely death after pleading with drug kingpins to 'find out what happened here'.
"I cared about this woman at the time and I believed her at this point," he said.
"I didn't want her life to end... I still thought that it was going to work out."
MORE ON:
Celebrity Justice
Ultimately, the FBI arrested Aguilar and he was spent nine years in prison after being convicted of extortion and intent to distribute cocaine.
Staub, however, cooperated with prosecutors and was spared jail in exchange for five years probation and mandatory cocaine testing.
"I was told by my people that she was dead," Aguilar said, in the deposition, "My people are my cartels."
When asked how he interpreted that, he said: "Her life was about to end."
Article continues below advertisement
"(I'm told) she's flipping (and) turned federal witness... that's when my people wanted her dead; they had called me weak for letting her live... (and) they told me, we should have had her dead to begin with."
According to Aguilar, he footed $100,000 in order to save Staub's life - a fee he now wants her to payback.
"What I did was to protect her, protect me," he said.
As RadarOnline.com revealed, Staub and her ex-husband were involved in failed settlement talks Wednesday.