Exclusive
EXCLUSIVE: Settlement Talks Fail; Ex-Husband Taking NJ Housewife Danielle Staub To Trial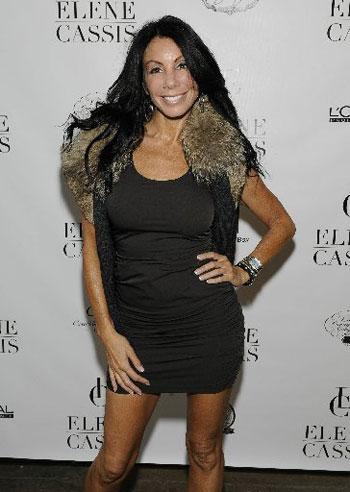 The Real Housewives of New Jersey's most controversial resident Danielle Staub has been embroiled in a federal defamation lawsuit filed by her ex-husband Kevin Maher for months, and it looks like it's definitely going to trial.
RadarOnline.com has learned exclusively that all parties were in settlement negotiations Wednesday but were unable to come to a mutual agreement and the negotiations abruptly fell apart.
Article continues below advertisement
READ THE DOCUMENTS HERE
"The mediator Gary Donovan tried all day for a settlement and the other side jerked us around," Maher told RadarOnline.com exclusively.
"We tried to settle this in good faith and negotiations failed. We are going to trial!"
Staub's lawyers had filed a motion Tuesday requesting to exclude certain evidence from trial regarding Staub's criminal history, Maher's polygraph examinations, any references to Staub's extra-marital sexual history, the testimony of Daniel Aguilar, and Caroline Manzo's deposition testimony.
Staub's attorney Peter Cook outlined 29 points in his motion requesting to prohibit certain evidence, including the following: any depictions of Staub as either a stripper, prostitute or cocaine addict by Maher; any use of video footage from The Real Housewives of New Jersey, any use of Staub's book The Naked Truth; any and all references to her criminal history, sexual history; and any references to her past or present illegal drug use and sex tapes featuring Staub.
Article continues below advertisement
And when it comes to Danielle's former reality co-stars, Cook requested the exclusion of all references to Danielle's relationship with Dina Manzo, Teresa Giudice, Jacqueline Laurita, and Danielle's interactions at The Brownstone owned by Caroline Manzo. Also, any references made by Caroline regarding Danielle's reputation, alleged outstanding debts, and alleged deceitful acts.
Staub is scheduled to be deposed in the case on October 5 and Maher says it may have been a motivating factor to discuss a settlement.
MORE ON:
Celebrity Justice
"I believe that October 5 would be the worst day in Danielle Staub's life, worse than her arrest," Maher told RadarOnline.com regarding the possible reason Danielle's lawyers and Simon and Schuster (that published her book The Naked Truth) were attempting to settle.
Although Maher is disappointed in today's outcome, has plans to take further legal action against the Real Housewife and those affiliated with her book.
Article continues below advertisement
"The mediator was talking to everyone involved so this didn't have to go to court and so I could put this behind me and she could put this behind her."
"What her lawyers did today is going to get Danielle sued twice! Danielle Staub with writer Steven Prigge and Simon and Schuster will be named as defendants in an upcoming lawsuit to be filed next week."
Calls to attorneys for Danielle Staub were not returned.