Exclusive
EXCLUSIVE: Gretchen Rossi Served - A Lawsuit - At 'Housewives' Party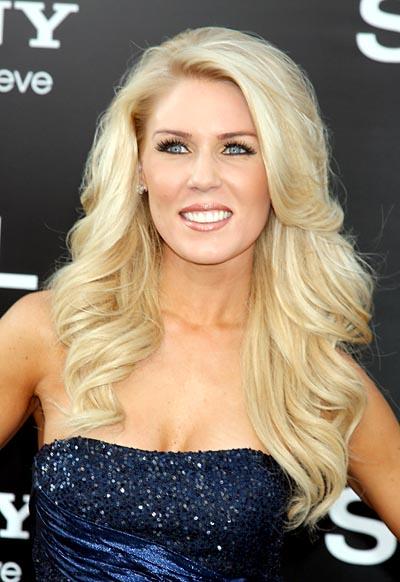 More than dinner was served when Gretchen Rossi got together for a meal with her Real Housewives of Orange County co-stars last Saturday night.
EXCLUSIVE DOCUMENT: Read The Lawsuit Against Rossi
As soon as Rossi arrived at the party she was served - with a lawsuit, RadarOnline.com learned exclusively.
The suit was filed by her ex boyfriend Jay Photoglou and a source familiar with the situation said Rossi's attorneys refused to accept service, leading Jay to have Gretchen served publicly.
Article continues below advertisement
It happened at the home of Peggy Tanous, the new Orange County cast member. Stars from Bravo's reality series got together at Tanous' home for a dinner, that was taped by the network.
"Gretchen pulled up in her car and as soon as she got out she was served with the legal papers," a source told RadarOnline.com. "She turned away and acted as if she was going to try to avoid being served. But there were two people there to serve her and she had no choice. She finally just accepted service."
Photoglou is suing Rossi for libel, slander and five other counts. The suit was originally filed in Los Angeles but for procedural reasons he needed to re-file it in Orange County.
RadarOnline.com was first to reveal that Peggy Tanous was joining the OC cast. And while Bravo taped the "get acquainted" dinner at her house Saturday night, Rossi being served was not captured on video.
Rossi also has an active lawsuit against Photoglou.
Article continues below advertisement
Rossi has at times denied she was romantically involved with Photoglou but he has provided ample proof of their former romantic relationship. Now, their only relationship exists in court, where they have battled continuously for the past year - and it doesn't look like the war is going to end any time soon.
"They've spent a fortune suing each other," one source told RadarOnline.com. "But the money doesn't seem to matter. They each want to stomp the other one."