Exclusive
EXCLUSIVE: Cocaine, Prostitution & Death Threats - New Details Of Danielle Staub's Secret Life Exposed In Lawsuit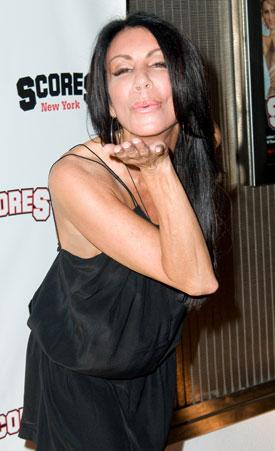 Danielle Staub's sordid past is coming back to haunt her, thanks to a new lawsuit that has provided never-before-revealed details about the reality TV star's past involvement with drugs, violence and even prostitution, RadarOnline.com has exclusively learned.
The Real Housewives of New Jersey star worked as an escort in Miami, once threatened to murder someone after beating them with a handgun, and was involved in a botched drug deal, according to explosive new testimony.
Article continues below advertisement
Daniel Aguilar, the man the controversial Real Housewives star has claimed threatened her life, was questioned under oath for several hours in Diamond Bar, California last Thursday, and detailed his claims about Staub's shocking secret life.
"She's a snitchin' coke wh*re," Aguilar told RadarOnline.com in an exclusive interview after his deposition.
Aguilar is a former drug dealer who was arrested in a kidnapping and drug distribution scheme with Staub almost 30 years ago. Last week, he told lawyers he met Staub in the 1980s, and she was a hooker.
Aguilar served time after Staub cooperated with prosecutors, and he admitted to RadarOnline.com that he wanted her dead. He has brought Staub's scandalous past into the present as he recently gave a deposition in a slander suit against the star by ex-husband Kevin Maher.
He also has recently contacted Staub and demanded $100,000 that he says she still owes him for getting her off the hook years ago with big-time drug dealers.
Article continues below advertisement
Under penalty of perjury, Aguilar testified last week that he called an escort agency and requested a prostitute and paid her $150 for sex.
That woman turned out to be Staub, who was then known by the names Beverly Merrill and Angela Minelli, he said.
Aguilar claimed that shortly thereafter, he and Staub became a couple. But that's where his trouble began.
According to Aguilar, he and Staub became involved in a failed drug scheme that he has claimed cost him $100,000 in order to save the reality star's life.
Staub, he told lawyers, requested four kilograms of cocaine with the intent to sell it to her neighbor.
Under oath, Aguilar admitted he provided Staub with the drugs, but said he was lied to and she and another man ripped him off, concocting a story about how the drugs were stolen.
EXCLUSIVE: Danielle Staub's Ex Pal Calls Her Lesbain Relationship A "Publicity Stunt"
Aguilar said he told the man he needed to come up with at least $25,000 and he would be able to work the rest off – either selling drugs or acting as a courier.
Article continues below advertisement
The man made several unsuccessful attempts to borrow money from his father.
When he was unable to raise the money, Aguilar claims that Staub became enraged, grabbed a loaded 9mm Beretta gun and hit the man several times in the head.
In an interview with RadarOnline.com, Aguilar recounted the incident: "He was standing there, I said to Angela (Staub) you're going to have to get this money, you're the one responsible for this right now.
"She got pissed off at him and started beating him with the 9mm.
"It was like, bam, bam, bam. I grabbed the gun from Danielle and asked her, 'What are you doing?
"She said, 'Look at the position he is putting me in, it's his fault'. He called his dad and told him how he'd been beaten. Danielle grabbed the phone and said to his dad he will be killed if this money isn't paid."
After the assault, the man called his father again yet only this time, Staub grabbed the phone and threatened to kill the man if the father didn't wire the money immediately.
Article continues below advertisement
The father then reluctantly agreed.
EXCLUSIVE: Sex Tape Legal Scandal -- Ex-Lover Suing Real Housewife Danielle Staub
Both Staub and Aguilar were arrested for the incident and charged with extortion and intent to distribute cocaine.
Staub entered into a plea bargain with prosecutors and agreed to testify against Aguilar and others in exchange for five years probation and mandatory cocaine testing.
Aguilar went to prison.
In the deposition from last week, the counsel for Staub reportedly asked Aguilar if he ever thought of causing physical harm to Staub.
Aguilar paused and said he had had thoughts of killing her, said a source.
When asked about that line of questioning, Aguilar confirmed to RadarOnline.com he was asked if he would ever hurt Staub.
"I said, 'I don't want to answer that' but she said I had to answer, so I said, 'Honestly I wanted to kill her because of what she did, but I realize that if she's dead I'm not going to get paid.'
He added: "Dead bodies can't pay you what they owe you. I want her alive."
As Radaronline.com revealed, Aguilar called the Real Housewives of New Jersey star just last month demanding $100,000 he says she still owes him for bailing her out years ago with drug dealers.
Aguilar said is still waiting to get reimbursed, however in a police report, Staub has insisted that she owes nothing to Aguilar.