Exclusive
EXCLUSIVE: Danielle Staub's Ex Pal Calls Her Lesbian Relationship A "Publicity Stunt"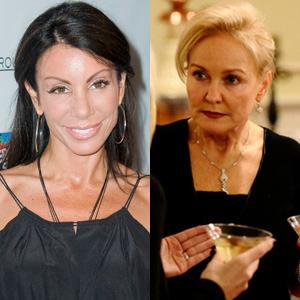 Controversial Real Housewives of New Jersey wannabe, Kim G., is stirring the pot once again - this time calling out her one-time BFF Danielle Staub on her rumored lesbian relationship, RadarOnline.com exclusively reveals.
"My take is that it's a whole publicity stunt," Kim told RadarOnline.com in an exclusive interview, and she's not alone in her opinion. "Friends of mine and people I talk to think it's all for publicity."
Article continues below advertisement
Despite Danielle's 'Look at me' lesbian move, she's never hit on former gal pal, Kim.
"A couple of people have asked me in the past, 'Has she come on to you yet?' but no, she hasn't," she revealed.
Kim went on to say that Staub can never keep a personal relationship for long. "People come and go in and out of her life," she explained.
"So this is just one more passing individual that will be gone eventually. She just uses them for a couple months, whatever she can get out of them.
Article continues below advertisement
Then she'll be on to the next one – whoever can further her."
Kim claims that a number of Danielle's confidantes who have recently been featured on the show are already sick of her.
"I'm telling you, everybody is gone - her lawyer, Darren Del Sardo; her energist, Sarai, is gone; Kathy Innocenti, who set up the entire birthday party for her daughter (on Monday's episode) is gone.
"They last about three months and then they move on because they walk on eggshells around her."
Kim is sure that Staub will repeat the pattern with Lori. "That'll be gone, trust me. In time, she'll move on."
Staub did not return RadarOnline.com's calls requesting comment.