Inside The Shocking & Seedy World Of A Drug Addicted, Bulimic Journalist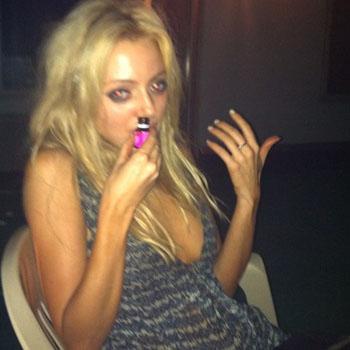 Most people try and keep their drug addictions on the down low, but not Cat Marnell!
The former Conde Nast and xojane.com beauty editor, who traded in her title after years of working her way to the top for a drug-fueled, self-indulgent lifestyle, exposes her shocking addict lifestyle in the new Page Six Magazine, which includes crazy cocktails of prescription and illegal drugs, bulimia, abortions and doctor shopping – and RadarOnline.com has the details.
Article continues below advertisement
The 29-year-old, who was fired from her day job by Jane Pratt when she refused to get clean and describes herself as the "bald Britney Spears of the literary world", had no qualms about inviting the magazine journalist into her New York City apartment, which was infested with crack pipes, prescription pill bottles and European fashion magazines, and bringing her out for a wild night on the town, where she snorted cocaine in front of her and ingested a variety of other drugs.
"I couldn't spend another summer meeting deadlines behind a computer at night when I could be on the rooftop of Le Bain looking for shooting stars and smoking angel dust with my friends," she explained to the magazine about her decision to pick drugs over her career.
However, two weeks after getting fired from the popular website, she was hired by Vice magazine to write a column about her druggie life called "Amphetamine Logic."
Article continues below advertisement
"If she told us tomorrow she wanted to stop taking drugs, we would help her do that," says Rocco Castoro, who hired Cat to write about her escapades. "She's writing about her life, and it's brave. The reality is, she would continue to do drugs without having an outlet to write about it. She's an important writer who should have an outlet. We don't glorify it; we're just honest about it. Anyone who knows someone who uses drugs knows: You can't tell them to stop. From the beginning, I told her, 'I'm not going to be your parent.'"
"I choose drugs over sex and I always have," Cat reveals about her priorities."People have wanted to date me, and I try, but I can't. It's very hard for people to understand addicts are very selfish."
Also a proud bulimic at 98 pounds, with a diet of Gatorade, Adderall, vodka, cigarettes and the occasional binge bucket of chicken wings, Cat brags about her diet technique.
"Real girls know how to do it," she explains about self-induced vomiting. "It's part of being a woman."
Article continues below advertisement
Though her favorite drug is angel dust, she admits that she ingested pretty much everything under the sun, but stays away from some drugs because of vanity issues.
"I don't want to die and I'm not a heroin addict. I've done it, but it's not my drug. I don't even drink that much. I can write about drugs and do them at the same time because I'm on uppers. And I have my limits. I would never do meth, just for vain reasons. I'm wildly interested in it, but I won't do it now. I've done it when I was younger; I've done everything."