Exclusive
Sofia Vergara's Brother Deported After 30 Arrests -- See The Mug Shots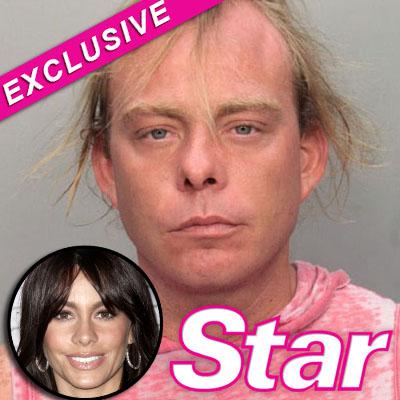 By Alex Burton - Executive News Editor, Star magazine
The real-life domestic dramas that have plagued Sofia Vergara are a far cry from the light-hearted situations she's faced with on her hit TV show Modern Family.
Heartbroken Sofia has been trying to help her younger brother, Julio, kick a crippling drug addiction that has led to his being arrested nearly 30 times in the last 10 years, according to Miami-Dade (Fla.) County Court information obtained by Star magazine.
Article continues below advertisement
Shockingly, Star has also learned that Julio was deported by immigration authorities after his last arrest in April.
"To see somebody dying over 10 years, little by little, that's the worst punishment," Sofia, 39, recently told Parade magazine. "Now he's like another person."
Sofia moved from Colombia to the U.S. in 1994 with her son Manolo, now 19, after divorcing her childhood sweetheart.
Four years later, her older brother, Rafael, 27, was killed on the streets of Bogota. "We come from a successful family, and he knew he was a target for kidnapping," says Sofia.
"He always had bodyguards. Then one day he went out alone and was shot dead. I was devastated."
So was her younger brother, Julio, now 34. "They were very close," says Sofia.
And even though she immediately brought Julio, their sister and mother to live with her in Miami after Rafael's murder, Julio soon began his downward spiral.
He tried attending college in Michigan, but "he wasn't ready," says Sofia, who admits that Julio began abusing alcohol, pot, cocaine and crack.
MORE ON:
Celebrity Justice
Article continues below advertisement
He returned to Florida — and left behind a still-open 2002 warrant for his arrest, according to Washtenaw County (Mich.) Trial Court information obtained by Star, after he skipped out on a court date following his arrest for "stealing a financial transaction device."
Julio's life continued to slide downhill in Miami. Local court information indicates that over the years, he's been arrested for drinking in public, assault and battery, petty larceny and frequent pot possession — as well as felony arrests for grand theft and cocaine possession.
Julio was held at the Miami-Dade County Corrections jail facility for five days after an April 8 arrest for pot possession, then re-leased into the custody of local Immigration and Customs Enforcement (ICE) agents.
Star has now learned exclusively that Julio was ultimately deported to Colombia on May 9 after "an immigration judge determined that he was no longer eligible to remain in the U.S." because of his criminal convictions, an ICE official tells Star.