Arnold Schwarzenegger Wows His Book Tour Crowd With Arianna Huffington Impression!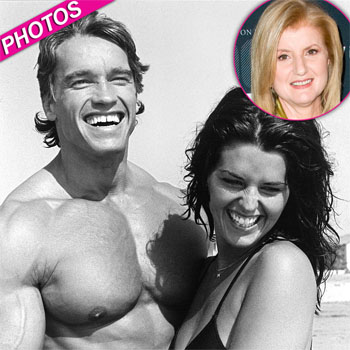 Barack Obama and Mitt Romney take note: The way to win over voters during political debates is by using humor…according to Arnold Schwarzenegger!
The 65-year-old actor has been touring the country promoting his new memoir Total Recall.
Earlier this week he delighted fans in Washington D.C. by telling them how he rattled his competition and swayed voters during debates while running for governor of California in 2003.
Article continues below advertisement
During the election Schwarzenegger – a Republican candidate – was up against, among others, journalist Arianna Huffington, who was running as an independent.
In video obtained by RadarOnline.com he told the Washington Post correspondent: "I felt when I was debating, since my strength was not policy in 2003. My strength was, me. And so therefore I went there and did not let myself get down to policy details.
"I could tell them: 'Yes I want to do health care reform. Yes I want to do immigration reform… But when it got into the details I'd rather use comedy, use humor. That was the important thing.
"That's why Arianna Huffington played into all my stuff. She was perfect."
Schwarzenegger then launches into a hilarious impression of The Huffington Post founder. He says: "She kept whining: 'Oh Arnold, you always say this. And you're always this. You're terrible. You're making so much money'."
MORE ON:
Arnold Schwarzenegger
Article continues below advertisement
He also says he deliberately goaded Huffington by threatening to cast her in the next Terminator movie as the female terminator!
"She was this whiny woman sitting there and I said to myself: 'I'm going to get her.'
"And she was outraged," he says, "because she just saw Terminator 3 where I took the female terminator and stuck her head in the toilet.
"So she immediately said: 'This is outrageous the way you deal with women. This is so typical of Schwartzesnitzel. It's terrible he wants to put my head in the toilet'.
"I said: 'Yeah, what's wrong with that?'
"So the people were howling. They were laughing. Because what happens is when you go to those debates everyone sits there like this puts on serious face…
"But I saw right away the intense look of people and I said to myself: 'I can lighten up this atmosphere here'. And as soon as I did it broke the ice and from then on I started winning the people over.
"In the end, as sad as it is sometimes…personality wins over all the details and throwing around numbers and statistics and all that stuff."