17 Feet Of Snake! Giant Burmese Python Caught In Everglades Breaks Florida Records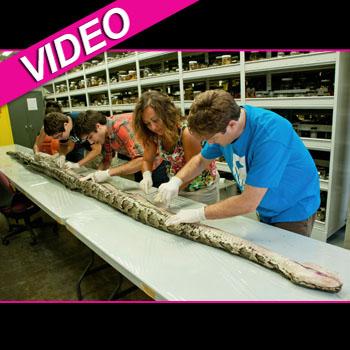 Article continues below advertisement
The monster snake also set a record by being pregnant with 87 eggs at the time of her capture.
"It was huge," said Paul Ramey, spokesman for the Florida Natural History Museum at the University of Florida in Gainesville, reported the Chicago Tribune. To perform the necropsy, researchers "had to put three tables together and it took at least four people to pick it up and get it on the tables,"he explained.
The discovery of the giant python is a sign that the Southeast Asia natives are increasingly tightening their grip on the ecosystem in South Florida, where they are flourishing without any natural predators in their adopted home.
Many of the unwanted guests were dumped in the swampland after pet owners found them too much to look after at home, and the Sunshine State now has the worst invasive reptile and amphibian problem in the world.
Article continues below advertisement
The record-breaking female "means these snakes are surviving a long time in the wild," explained Kenneth Krysko, a snake expert at the Florida Museum of Natural History, where the euthanized snake was brought. "There's nothing stopping them and the native wildlife are in trouble."
Between 2000 and 2011, around 1,825 Burmese pythons were found in the Everglades National Park. Authorities have taken repeated steps to try and reduce the python problem by banning their importation and allowing them to be hunted but those efforts have done little to reduce the population.