Woman, 90, Loses Leg; Airlifted After Alligator Attack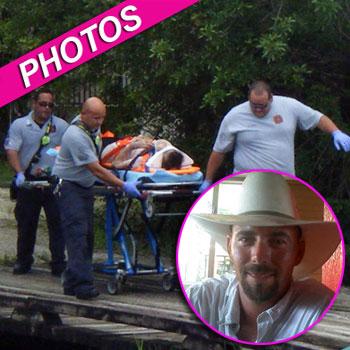 We've got a sad story to report out of the Florida Everglades, where a 90-year-old woman named Margaret Webb remained in critical condition on Friday following a vicious alligator attack.
In these photos, we see Webb, who suffered severe leg trauma in the clash, being airlifted to Lee Memorial Hospital in Fort Myers, where, sadly, doctors had to amputate her leg.
Officials said Webb was relaxing at her home in Copeland on Wednesday, when an alligator measuring 8-feet-long emerged out of a nearby canal that's 14 feet-deep, and chomped down on her leg.
Article continues below advertisement
Her neighbor Dwain Daniels III bravely rushed to the elderly lady's rescue and shot the gator, ceasing the attack.
Daniels III "looked over and saw the lady on the ground half in the water, wheeled around and jumped out of his truck to come to her aid," according to Jayson Horadam, the Captain of Law Enforcement for Florida's Wildlife Commission. "It appears he was able to pull her away from the gator."