It's Real! Meet Brutus, The Giant Croc From Down Under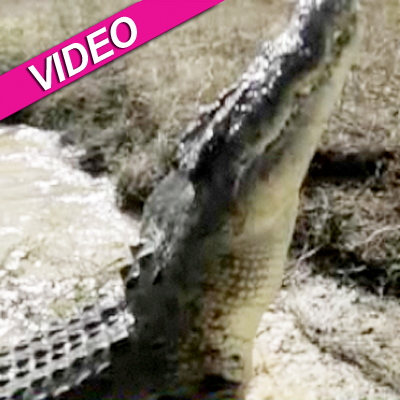 By Adam S. Levy - Radar Staff Writer
After a photo recently surfaced showing a monster-sized crocodile lunging at a tourist boat, speculation ran rampant that the picture must be a hoax. Turns out – it's not!
The Today Show tracked down the giant croc in Australia's outback Northern Territory. Based in Australia's remote breaches, Adelaide River Cruise regularly tours the area the 18-feet-long, 2,000-pound Saltwater crocodile resides in, occasionally emerging frobrutusm the water to snag a piece of the buffalo meat they dangle for him as bait.
Article continues below advertisement
Watch the video on RadarOnline.com
Brutus first gained worldwide attention after emerging dangerously close to a tour boat while going for a taste of buffalo, though Adelaide tour guide Morgan Bowman told NBC the tours are 100 percent safe.
Bowman said Brutus, who's age is estimated between 70-80, is a master hunter/survivalist, and one of "the last of the dinosaurs in the world."
Brutus, according to locals, is missing teeth due to a taste for wild boars, and missing a leg after a nasty run-in with a shark.