Exclusive
Couple Found Guilty After Child Killed By Pet Python — Face 45 Years In Jail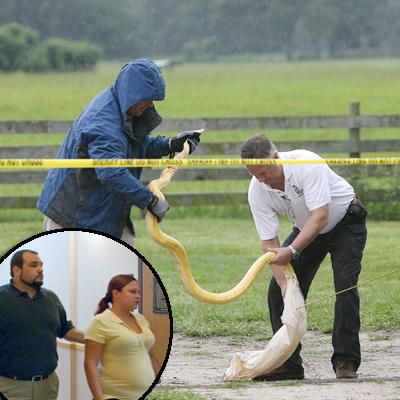 - RadarOnline.com Senior Reporter
The parents of a 2-year-old girl who was killed by the family pet python were found guilty on all charges of her death in Florida courtroom Thursday.
After just two hours of deliberations the jury found Jaren Hare and the girl's stepfather Charles "Jason" Darnell guilty of manslaughter, third-degree murder and child neglect charges. Hare, 21, and Darnell, 34, each face up to 45 years in prison.
Article continues below advertisement
The couple rejected a plea deal before the trial that could have given them each up to 10 years in jail.
Shaianna was two when she died in July 2009, after being bitten and strangled in her crib by the pet albino Burmese python named Gypsy. The snake had escaped from an aquarium that had a quilt for a lid. The fangs of the snake were in the toddler's forehead when she was found and her stepfather, who had plans to adopt the little girl, hit the snake with a cleaver and called 911.
According to police the python hadn't eaten in a month and weighed in at a sickly 13.5 pounds after the attack.
A juror spoke to reporters outside the court and gave the reason for the guilty conviction. "They were responsible for the safety of the 2-year-old, who could not provide for her own safety. It was their duty to make sure that there was no possibility that a 2-year-old could be bitten and harmed by such a large animal."
Article continues below advertisement