Exclusive
Kate Gosselin Stalked By Pedophile On Twitter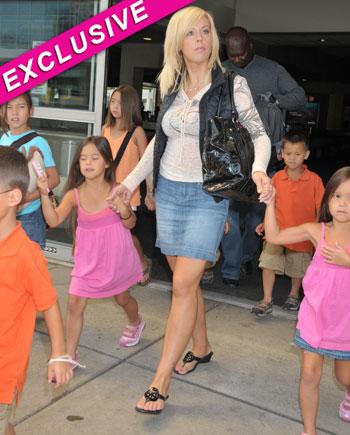 by RadarOnline.com Staff
Someone claiming to be a pedophile has been following Kate Gosselin on her Twitter account, RadarOnline.com has learned exclusively.
The follower was going by the name GeorgeHarvey2 and using a photo of the actor Stanley Tucci as his ID. George Harvey was the evil character -- who murdered a young girl -- Tucci played in the movie The Lovely Bones.
GeorgeHarvey2 tweeted that he is a member of NAMBLA, the organization that supports pedophilia.
Article continues below advertisement
"He also made several inappropriate tweets involving porn as well as the young girl who was raped and murdered in the film The Lovely Bones," Polly Kahl, MA, LPC, author of Kate Plus Eight: Reality TV & The Selling of the Gosselins, tells RadarOnline.com exclusively.
A few of her fans alerted Kate about GeorgeHarvey2 and her own security team took over. He has since been blocked from following her.