Exclusive
Man Who Had Penis Chopped Off Says Wife Was 'Upset About Divorce'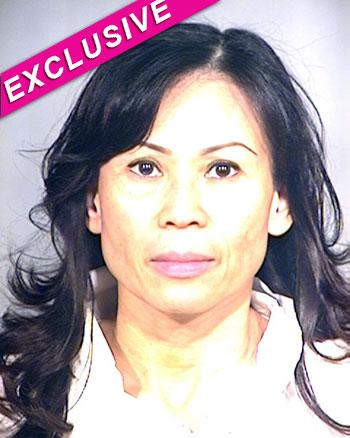 By Jen Heger - RadarOnline.com Legal Editor
UPDATE: The Orange County District Attorney's Office Tells RadarOnline.com:
"Catherine Kieu, 48, Garden Grove, is charged with one felony count of torture, one felony count of aggravated mayhem, and sentencing enhancements for great bodily injury and personal use of a knife. If convicted on all counts, she faces a maximum sentence of life in state prison with the possibility of parole. The defendant is being held without bail and is scheduled to be arraigned today."
Article continues below advertisement
Catherine Becker, the Garden Grove resident that chopped off her estranged husband's penis, was extremely upset that he had filed for divorce, RadarOnline.com is exclusively reporting.
Garden Grove police Lt. Jeff Nightengale told us: "The victim told our detectives that she (Catherine Becker) is very upset about the divorce. The victim is doing surprisingly good given what he has been through."
RadarOnline.com isn't releasing the name of the man because he is a victim of domestic violence.
The victim filed for divorce on May 16, 2011, and the couple have no children together.
Becker allegedly used a 10 inch knife to cut off her husband's penis, and then threw it in the garbage disposal. According to cops, Catherine allegedly laced his dinner with drugs, causing him to pass out. Once he was unconscious, she tied his arms and legs to the bedposts, stripped him, and made the cut.
The victim has been interviewed by investigators, but his estranged wife has remained silent since her arrest. "She has refused to talk, which is her right. Once she was read her Miranda rights, Ms. Becker invoked her right not to say anything. She will be in court this afternoon for her arraignment," Lt. Nightengale told RadarOnline.com.
MORE ON:
Celebrity Justice
Article continues below advertisement
Becker could be looking at life behind bars for cutting off her hubby's appendage. "She is looking at an aggravated mayhem charge, because she planned the crime, and the victim could be permanently harmed because of the alleged crime. If Ms. Becker is convicted of aggravated mayhem, she could be facing life behind bars, without the possibility of parole," Lt. Nightengale stated.
The Orange County District Attorney hasn't determined what crimes she will be charged with yet. That determination will probably be made at her arraignment this afternoon.