Woman Cuts Off Husband's Penis, Tosses It Into Garbage Disposal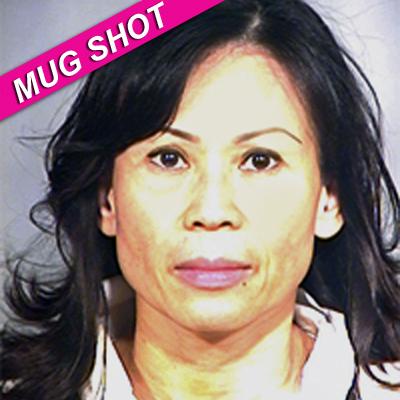 By Adam S. Levy - Radar Staff Writer
A Garden Grove, California woman named Catherine Kieu Becker will face a judge Wednesday, after she reportedly sliced off her husband's penis with a 10-inch knife and tossed it into the garbage disposal.
Here's how it all went down: On Monday, Becker had laced a meal of her husband's with drugs, Garden Grove police Lt. Jeff Nightengale said, causing the man to get sick and pass out in bed. Once he was unconscious, she tied his arms and legs to the bedposts, stripped him, and made the unkindest cut.
Article continues below advertisement
The unidentified victim, 51, "was conscious when his penis was removed," according to Nightengale.
Becker then took the man's penis to the kitchen, tossed it into the garbage disposal and turned on the machine.
"The intention by this person was to permanently deprive this victim of his genitalia," Nightengale told the Los Angeles Times.
Following that, she called 911 and altered authorities to the carnage; when police arrived at the scene, Becker told them where her husband was at, adding that "he deserved" his fate.
Becker was taken into custody and booked into the Orange County Jail in connection with aggravated mayhem, false imprisonment, assault with a deadly weapon, administering a drug with intent to commit a felony, poisoning and spousal abuse.
Her bail was set at $1 million, and if she's found guilty on the aggravated mayhem charge, she could face a life sentence (with the possibility of parole).
"You're not just depriving a person of a member or portion of their body or disfiguring them," Nightengale told the paper. "You're doing something that's so egregious, we're not sure what's going to happen ... if they're going to be able to reattach this or repair this person after such a violent attack.
Article continues below advertisement
Nightengale said the couple, who'd been married since December 2009, had been getting divorced (the husband filed in May under "irreconcilable differences," court records revealed) but there was no "strong motive leading to this level of violence."
Following the incident, Becker's husband had surgery at the University of California at Irvine Medical Center, according to the hospital, where the man was listed in good condition.
The case is reminiscent of the 1993 incident in which a Virginia woman named Lorena Bobbitt cut off the penis of her husband, John Wayne Bobbitt. Claiming longtime abuse, she was eventually cleared via an insanity defense, and both would become pop culture forget-me-nots as the story was a mainstream favorite in the early 90s. John Wayne Bobbitt, who's penis was re-attached, would parlay his dubious fame into stints on The Howard Stern Show and WWE, as well as starring in his own XXX film.