Amsterdam's 70-Year-Old Prostitute Twins Reveal They've Slept With 355,000 Men!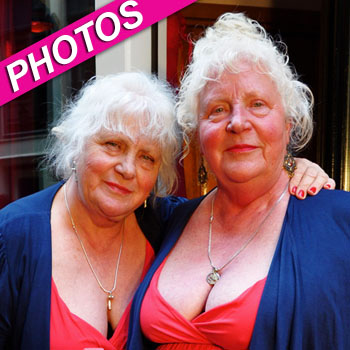 Article continues below advertisement
"You must have very strong hip joints, you're saying that you have problems with your arthritis!" exclaimed anchor Phillip Schofield, referring to the ailment that forced Louise into retirement two years ago, while her sister still works the window.
As RadarOnline.com previously reported, the women are now swapping the brothel scene for the bigscreen with an autobiographical film ironically titled Meet The Fokkens, and a book about their lives that is set for release next month.
The twins explained to Schofield and his co-host, Holly Willoughby, that while their clients are all different ages, "They grow with you… a lot of friends," said the Dutch sisters almost simultaneously.
The Fokkens also revealed how the industry has changed since they first began selling their bodies in the 1960s. "It is very different now. We used to sit in the windows with clothes on, today they are totally naked," said Louise, who became a prostitute at age 20 when she couldn't earn enough money making lampshades.
Article continues below advertisement
"My husband's friends said it was the best way to make money so we decided to find out. At first it was a problem for our mother and father but later we all lived normally with it."
While Martine still can't afford to retire from the world's oldest profession, the pair are hoping that their eye-opening memoir will rake in enough money to turn the red light off for good.
"We have written about our life for over 50 years in the industry. It is our side of the story," they explained.